A delegation of physical activity directors led by Dr. Li Li Ji, director of the School of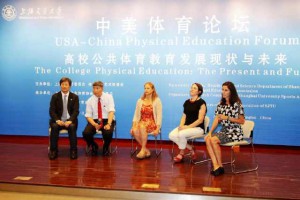 Kinesiology,  visited four universities in China this month to share strategies for promoting physical fitness among university students.  The American Culture Center (ACC) in Sports delegation included Ms. Brandi Hoffman from Kinesiology, director of the Physical Activity Program at the U of M; Ms. Carrie Sampson of the Massachusetts Institute of Technology; and Dr. Bridget Melton of Georgia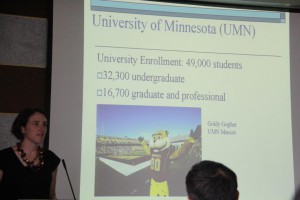 Southern University. The delegation visited campus sport facilities and physical education classes at Shanghai Jiao Tong University (SJTU), Zhejiang University, Shanxi Normal University, and Tianjin University of Sport. The group  presented lectures on their programs, sharing successful strategies as well as challenges, and learned how their Chinese colleagues conducted their programs.
"Declines in student health and fitness is a major concern among Chinese universities due to increased academic pressure," said Vice-president Xu Xueming of SJTU at the USA-China Physical Education Forum. "We should learn from the U.S. and others to strengthen physical education classes to reverse the trend."
The visits generated renewed interest and publicity at the Chinese universities, said Dr. Ji. ACC is a program supported by a U.S. State Department grant to promote public diplomacy in China. During the trip, Dr. Ji also attended the annual ACC Exchange Conference held in Xian, where all ACC representatives in China met with the new Ambassador to China to share information about their activities during the past year.