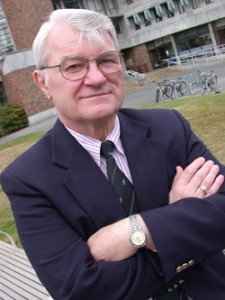 For his pioneering work in science education, Larry Yore received one of the highest awards bestowed on alumni of the University of Minnesota at a ceremony on campus May 22. The U's Outstanding Achievement Award recognizes graduates who have attained unusual distinction in their chosen fields — appropriate for Yore, an internationally known expert on the role of language in science and science education and on how language affects scientific inquiry.
"Larry has international teaching and research accomplishments that go beyond what most teachers and educators could even dream of," said Jean Quam, dean of the U of M's College of Education and Human Development (CEHD), which nominated Yore for the award. "But his generosity of spirit and tireless commitment to students, colleagues, and learning is even more impressive."
Yore is a Distinguished Professor Emeritus at the University of Victoria, British Columbia, but his roots run deep in Minnesota. A native of Delavan, in the south-central part of the state, Yore earned his bachelor's degree ('64), master's degree ('68), and Ph.D. ('73) in education at the University of Minnesota. Teaching science and studying its connection to reading and literacy became his specialty early on, including positions where he excelled as both a teacher and administrator in the Eden Prairie Public Schools and University High School ('64 to '70) before joining the faculty at the University of Victoria. Over 41 years of service at Victoria, he taught science, technology, and science literacy and research courses, and he chaired the Departments of Social and Natural Sciences and of Curriculum and Instruction. He also served as president of the university's faculty association and a member of the Board of Governors.
His accomplishments in higher education include 76 research articles in national and international journals, service on the board of directors of the National Association for Research in Science Teaching, participation on review panels for 20 education research journals, and founding membership on the International Journal of Science and Mathematics Education. At Victoria and other universities, he has mentored and advised more than 175 graduate students, worked with numerous researchers whose second language is English, and led studies on scientific literacy in many countries around the world.
Yore has been honored as "Science Teacher Educator of the Year," by the Association for Science Teacher Education; awarded with highest honors for contributions to science education through research, by the National Association for Research in Science Education; recognized with the Distinguished Contributions Award, by both the reading and science education communities; and named the University's first Distinguished Professor at the University of Victoria.
Photo credit: University of Victoria Photo Services.