The LT Media Lab hosted the annual Learning Technologies M.Ed. Student Showcase event on Friday evening, May 9. This was a fantastic opportunity to celebrate a very successful academic year and for many of our graduates to present the final capstone project they accomplished to complete their M.Ed. in Learning Technologies. These practical projects reflect students' professional goals and require real-world application of the LT knowledge they gain in our program. Projects are often accomplished within students' current work contexts, which are richly diverse and varied.
Some examples of the capstone projects showcased this year include:
international implementation of mobile devices to provide ICT access to residents in rural areas of the Dominican Republic,
the creation of a professional development curriculum to prepare teachers for a 1:1 initiatives in K-12 settings,
designing a framework for an online program in theological studies for adult learners,
the design and development of a mobile application to support childhood literacy,
the development of an initiative to encourage kids to explore and learn about the natural environment using technology devices,
and the creation and publication of an eBook for instructional designers to guide aesthetic and pedagogically-grounded academic slide design.
Sincere congratulations to all of the Fall 2013 and Spring 2014 graduates who have earned an M.Ed. in Learning Technologies: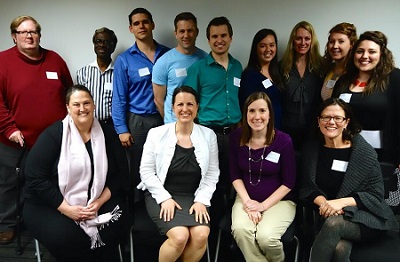 CJ Sorensen
Marit Oberle
Jean Watson
Joan Freese
Kacie Kline
Lana Peterson
Ann Fandrey
Natt Friday
Heather Dorr
Sandy Ludwig
Kristin Lundstrum
Earl J. Heinrich
Carla Bates
Alfonso Sintjago
Jim Trebisovsky
If you would like to know more about the Master of Education – Professional Studies in Learning Technologies, please visit the LT M.Ed. program page. For more updates from the Learning Technologies Media Lab, please visit the LTML website.