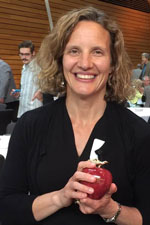 The Board of Regents of the University of Minnesota has approved the promotion of the School of Kinesiology's director designate Beth Lewis, Ph.D., to the rank of full professor. A ceremony was held at the MacNamara Alumni Center to honor Dr. Lewis and others who were promoted.
Dr. Lewis' research focuses on examining the efficacy of nonface-to-face behavioral interventions for physical activity promotion among sedentary adults. Recent studies are examining the effect of exercise on preventing postpartum depression.
Congratulations, Professor Lewis!