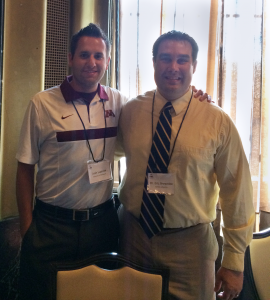 Last week, doctoral student Joshua Lupinek and former sport management faculty Dr. Eric Brownlee presented "Student Led Group Ticket Sales Projects" at the Teaching and Learning Fair at the North American Association for Sport Management (NASSM) conference in Pittsburgh, PA hosted by Duquesne University.
This project provided the framework for setting up a sport sales class into a realistic sales department experience with industry management hierarchy. Student-led teams collaborated to create realistic sales teams to sell Cleveland Indians tickets. Teams worked in conjunction with the Indians. Top performing students, teams, and schools were rewarded with Indians tickets, gear, and personal interviews with top management. This project was initially started with the Minnesota Timberwolves and successfully ran in-conjunction with the Cleveland Indians last year.
The presentation included  a detailed class project description, assessment rubric, and sales tracking spreadsheet for the student-led group ticket sales project. This student project was  integrated into a sport marketing course.