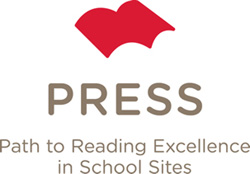 The Minnesota Center for Reading Research, with the Path to Reading Excellence in School Sites (PRESS) project, has been chosen as the University of Minnesota nominee for the 2013 C. Peter Magrath University/Community Engagement Award. This award, sponsored by the Association of Public and Land Grant Universities (APLU), recognizes public colleges and universities for their engaged learning and discovery. The APLU accepts one application from each institution.
Aimed at preparing all students to read by third grade, PRESS is a comprehensive approach to early literacy developed by the MCRR in partnership with Minneapolis Public Schools, Minnesota Reading Corps, and the Target Corporation.
Driven by research-based approaches to literacy, PRESS incorporates quality core instruction, data-driven instructional decisions and interventions, expanded support for English Language Learners, and meaningful professional development to support systemic change.
PRESS is co-directed by Matthew Burns (EPsy), Lori Helman (C&I), and Jennifer McComas (EPsy).