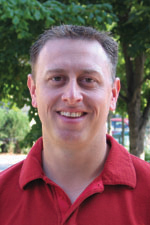 Mitch Hoffman, M.A., adjunct instructor in Kinesiology's Recreation, Park, and Leisure Studies undergraduate program, was awarded the Patsy Kott Service Award from the Association of Outdoor Recreation and Education (AORE) at their 2016 annual conference November 9-11.
The award is described in the association's press release:
The Patsy Kott Service Award
This award recognizes long-term professional work or service having a lasting impact on the Association and its mission. This award is presented to an AORE member who has demonstrated behind the scenes impactful and steadfast service to the AORE. A distinguishing characteristic for this award is significant long-term service to support the Association from behind the front lines. 
Mitch has been a long-time member of and advocate for AORE. He is a past AORE Board of Directors member and a two-time conference host. He is extremely active within AORE and has assisted with and led many AORE initiatives. Mitch has been a great sounding voice for Board members, committee chairs, and other members, and repeatedly puts AORE and the membership first. He takes time away from family to support the National Office and AORE volunteers, and is selfless in things he is passionate about. Mitch has been instrumental in building relationships with outdoor gear companies to support AORE events and in creating connections among members and vendors.
  
Mitch has carved his AORE path on dedication, leadership, and stewardship, not only with AORE, but also at the University of Minnesota and beyond. 
Hoffman, who is the Outdoor Center Director for the U's Recreation and Wellness Center, teaches REC 3321 Outdoor Recreation 3-Season Skills. He also organized this year's AORE conference held on the U of M campus at McNamara Alumni Center and the Recreation and Wellness Center.