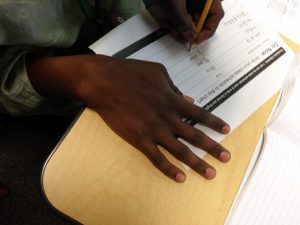 Students who are new to the United States (and often English) have a wide range of educational experience when they enter the U.S. school system, ranging from ten-plus years of high-quality, formal schooling to very few experiences with formal education. However, according to research conducted last year in the Minneapolis public school system by professors Kendall King and Martha Bigelow of the Department of Curriculum & Instruction, the standard assessment given to students new to the country failed to differentiate between those who had formal schooling and those who did not; they both scored roughly the same. This creates a problem for students, who are often initially placed in classes not appropriate to their skill level, and can slow down their achievement in schools.
The research findings, which were recently accepted for publication in Educational Policy, spurred King and Bigelow to tackle the problem with a more effective assessment tool. They started a collaboration with students, faculty and staff at Wellstone International High School, the New Family Center, and the Multilingual Department of Minneapolis public schools to develop the Native Literacy Learning Assessment (NLLA). This test, which Minneapolis now administers to most newcomer adolescents, provides administrators and teachers with crucial information about students' reading and writing skills in their first language. It is available in Spanish, Somali, Oromo, Arabic, and Amharic.
King and Bigelow hope that teachers and administrators will find this new, free tool useful in meeting the needs of their multilingual students and ensuring appropriate class placement to better educational outcomes for students new to the U.S. school system.
Download the Native Language Literacy Assessment.