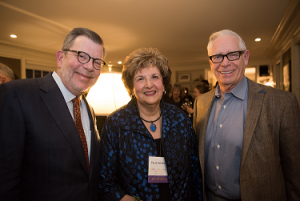 On November 19, elementary education (1964) alumna Paula Goldberg was presented with the University of Minnesota's Outstanding Achievement Award.
Paula is the Executive Director and co-founder of PACER Center, a nonprofit supporting families of youth with disabilities using a "parents helping parents" model. PACER Center is unique in that it serves children of all ages, with all disabilities: learning, physical, emotional, mental, and health. No other organization in Minnesota offers this broad range of services to families.
Prior to founding PACER, Paula was an elementary school teacher in Minneapolis and Chicago. In 1978, she was faced with a decision, either to attend law school or help launch a new organization to assist parents of children with disabilities. She chose to spend her time – just for a few years, she thought – building PACER Center.
It was a grassroots effort, with one grant, five staff and a 700 square foot office filled with used furniture. Her young sons helped with filing and put on puppet shows to teach schoolchildren about disability awareness.
Today, thanks to Paula's leadership, PACER has more than 70 staff in its own 38,000 square foot building. The Center runs more than 35 programs, including bullying prevention, social events and self-advocacy resources for youth, independent housing information, an assistive technology center, and, almost 40 years later, the puppet shows.
Paula has dedicated her professional career to ensuring families of children with disabilities have access to information, resources and support. Her vision for PACER has made a difference for thousands of children and parents across the country.
The Outstanding Achievement Award is reserved for University of Minnesota alumni who have attained marked distinction in their profession or in public service; and who have demonstrated outstanding achievement and leadership on a community, state, national, or international level.