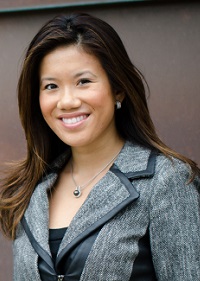 C&I Ph.D. student Sousada Chidthachack (STEM Education Program Area) has recently been featured in the Asian American Press as part of Twin Cities World Refugee Day,  Minnpost, and profiled by Wallin Education Partners for her unique personal story. Born in a refugee camp in Thailand, Chidthachack emigrated to Minnesota with her family in 1986. Tremendously self-motivated, Chidthachack hopes to make mathematics more accessible to students of color.
"When I was younger, I wanted to be talk show host like my idol Oprah Winfrey so I could entertain, uplift and inform," shares Chidthachack. "As a leader in education, and with the help of the media, I get to be the 'host' of my own show and share my messages about education as the great equalizer; that with a good attitude and a good education, students can be anything they set their minds to. One of my goals as a Ph.D. student is to work with underrepresented populations and be a voice for those who are silenced."
Chidthachack is particularly moved by a quote from Winfrey, "Excellence is the best deterrent for racism or sexism." It is obvious that Chidthachack lives by these words. In addition to accepting a faculty position at the University of St. Thomas starting this fall, Chidthachack has also been writing and will soon publish a memoir, "The Lesson is Never Just a Number: A Mathematics Teacher's Journey From the Projects to Pursuing a Ph.D."
Please find Chidthachack's Minnpost article here, her Wallin Education Partners article here and her Asian American Press profile here. You can also read her CEHD profile here.