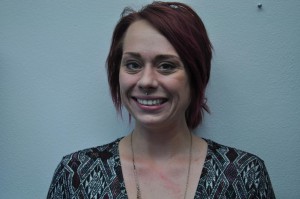 Laura Stigen, senior in the RPLS program in the School of Kinesiology, has been awarded a Minnesota Recreation and Park Foundation student scholarship. The $1,000 award is available to juniors, seniors and graduate students majoring in a Minnesota four-year park and recreation program, or permanent residents of Minnesota majoring in a neighboring state in the same degree.  Applicants must display excellence in their abilities, leadership qualities, job experience and commitment to the park and recreation field.
Ms. Stigen, who also has an occupational therapy assistant degree, returned to school last spring for her RPLS degree, which will help her attain her dream job as a recreational therapist in a homeless shelter. She has been a volunteer in homeless shelters since high school, "and these have been the most rewarding learning experiences of my life," she says. She once took a train to Portland, OR, to help their homeless population.
She has lead many support groups and is an inspirational speaker on mental health and suicide awareness.  She  continues to lead recreational activities in her community and is currently a full-time art teacher while working towards her degree. She says:
"Being a Minnesota Recreation and Park Foundation Scholarship recipient is a great honor.  It has given me the opportunity to really embrace my last semester of college and focus on my internship. I think it is a beautiful thing when a career and a passion come together.  I am very lucky to have found my purpose a long time ago and never gave up on chasing my degree."
Ms. Stigen was also awarded both the Kinesiology and Leisure Studies Scholarship and the Edith Mueller Park and Recreation Memorial Award for 2015-2016.