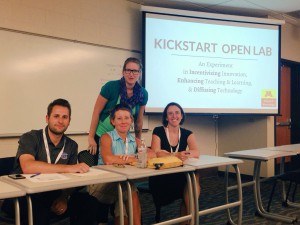 Four School of Kinesiology faculty and staff gave a panel presentation at the 2015 MN eLearning Summit held July 29-30 at Minneapolis Community & Technical College.
Austin Calhoun, Ph.D. (Director, eLearning & Digital Strategy), Brandi Hoffman (Director, Physical Activity Program), Joshua Lupinek, Ph.D. (recent graduate), and Connie Magnuson, Ph.D. (Director, Recreation, Park, and Leisure Studies program) lead a panel discussion on Kickstart Open Lab, the School's incentivized, project-based approach to eLearning exploration, adoption, and implementation.
The presentation, "Kickstart Open Lab: An Experiment in Incentivizing, Enhancing Teaching and Learning, and Diffusing Technology," explored the versatile and unique program developed and implemented at the School of Kinesiology.
Slides from the presentation are available here.
The MN eLearning Summit is the premiere event of the Minnesota Learning Commons and is a gathering place for K-12, college, and university educators and innovators in the Midwest who are committed to effective online and blended learning.