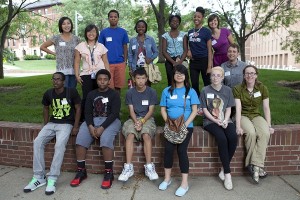 Teen Tech leaders from around the Twin Cities gathered at Learning Technologies Media Lab on Thursday, July 25, to meet each other, share work and ideas, play with Flipgrid, and hang out with LTML developers. Co-sponsored by the LT Media Lab and the Emma Birkmaier Professorship in Educational Leadership, this event was organized by Maggie Struck, a Ph.D. student in Literacy Education in the Department of Curriculum and Instruction.
Participants included the Franklin Library's Teen Tech Squad (Hennepin County Library), CreaTech from SPNN (St. Paul Neighborhood Network), and the Teen Tech Crew from the Science Museum of Minnesota and St. Paul Public Libraries.
Thanks to all who made this day spectacular. LTML is looking forward to future visits and collaborations.