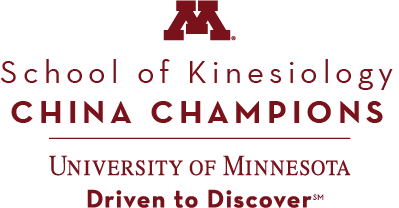 To foster an exchange of culture, education and sport, the University of Minnesota will host 10 Chinese Olympic and world champion athletes and one Olympic-level coach as part of the CHINA CHAMPIONS program (CCP), arriving October 16.
Led by the U's School of Kinesiology, in collaboration with Beijing Sport University and supported by the China Scholarship Council, CCP is a unique, global collaboration that provides mutual benefits for Chinese athletes and University faculty, staff, and students.
"This partnership offers the chance for visiting athletes and many at the University to engage, teach, and enhance learning from each other," said Li Li Ji, Ph.D., director of the School of Kinesiology and founder of the CHINA CHAMPIONS program. "Our goal is to ensure all involved gain insight and appreciation for the cultures in each country and harness that knowledge to benefit our world."
During the next year, participants will attend specially designed courses in the School of Kinesiology, including academic seminars, workshops, and English as a Learned Language classes. Beyond the classroom, athletes will visit Minnesota cultural sites, become acclimated with the Twin Cities area, as well as take tours of University and local professional sports team's stadiums, arenas, and training facilities.
University partners with the School of Kinesiology include the University of Minnesota China Center, the Global Programs and Strategy Alliance (GPS Alliance), and the College of Education and Human Development (CEHD).
"Globalization and internationalization are an important part of CEHD's mission of applying principles and practices of multiculturalism to advance teaching and learning," said CEHD Dean Jean Quam. "CCP provides a new and exciting way for two-way discovery between our students, faculty, staff, and community and elite Chinese athletes."
Local business and government leaders will also meet with the athletes to give them a behind-the-scenes look into international corporations, government, and the American culture.  Each of the Chinese participants are continuing their education as part of a master's level graduate program with Beijing Sport University, the top sport university in China.
"The CHINA CHAMPIONS program is a wonderful example of the University's expanding global connections," said Associate Vice President and Dean of International Programs Meredith McQuaid. "It is another way for the University to build on our long and strategic partnerships with people and institutions throughout China."