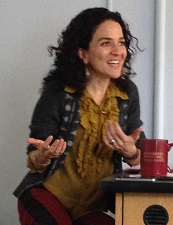 Amid a whopper of a Minnesota winter storm, Dr. Elisabeth Soep, Senior Producer and Research Director at Youth Radio, gave an engaging, thought-provoking presentation on digital youth initiatives and civic engagement to a mixed live and online audience this past Friday at McNamara Alumni Center on the University of Minnesota campus. She drew from her work at Youth Radio and from research in a range of other youth-driven settings across the U.S. to identify five tactics young people are using to make a difference in public spheres. Following her talk, a panel of community, university, and school-based youth educators discussed their work in supporting youth voices through digital media production. An archived copy of Dr. Soep's presentation is viewable online at http://new.livestream.com/ltmedialab/soep.
Youth Radio is an Oakland-based, youth-driven production company that serves as NPR's official youth desk. The Youth Radio stories Dr. Soep has produced with teen reporters for public media outlets have been recognized with such honors as two Peabody Awards, three Murrow Awards, an Investigative Reporters and Editors Award, and the Robert F. Kennedy Journalism Award.
The University of Minnesota event was co-sponsored by the Emma Birkmaier Critical Literacy and Urban Education Speaker Series, the Learning Technologies Media Lab, and the Department of Curriculum and Instruction's Speaker Series, with contributions from Culture and Teaching (C&I), the School of Social Work: Youth Studies Program, and the Department of Organizational Leadership, Policy, and Development. All the sponsors are part of the College of Education and Human Development at the University of Minnesota.
To stay abreast of upcoming events like these, please visit the CEHD and C&I event pages.