To help colleges learn how best to support access and success for underrepresented and low-income college students, the U.S. Department of Education awarded $2.8 million to the College of Education and Human Development and its partners on Sept. 30.
Part of the 2014 First in the World Program, the four-year grant will fund an effort to engage underrepresented and low-income students and bridge campus-community cultural divides by developing deeper partnerships with diverse communities. This project targets underrepresented students at five research universities, developing and implementing enhanced community-based learning experiences within their academic programs to enhance student academic engagement, sense of belonging, and college persistence.
The other university partners are City University of New York, University of California Santa Cruz, University of Georgia, University of Illinois Chicago, and University of Memphis.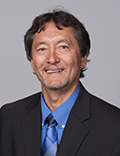 "This is an exciting partnership that brings together leaders from universities doing creative and exemplary work engaging their communities in meaningful ways. We at the University of Minnesota will be convening and coordinating the efforts, and are also responsible for evaluating the work for impact across all these universities," said Geoffrey Maruyama, project director, and professor and chair in the Department of Educational Psychology. "Most exciting will be the opportunities at each institution to refine programming for students and for us collectively to build a guide for additional institutions across the country to use to build programs appropriate for their circumstances."
As part of the project, programs will share what they have learned through their work to implement new and refined programming that will serve about 9,000 college students, focusing on underrepresented students across the five institutions. Elements of community-based learning initiatives will be evaluated in the project to determine those that enhance student educational attainments across a variety of learning initiatives operating at each of the five participating campuses.
The Minnesota components of the project will work across the Twin Cities campus, coordinated by project co-director Andrew Furco, associate vice president for public engagement. The project also draws from the Center for Applied Research and Educational Improvement, which will be serving as the project evaluator, and from the Office of Institutional Research.
Nearly 500 applications were received by the U.S. Department of Education for this first year of the First in the World Program. Approximately $75 million was awarded to 24 colleges and universities.
"Each grantee demonstrated a high-quality, creative, and sound approach to expand college access and improve student outcomes," said U.S. Secretary of Education Arne Duncan. "We are confident these projects will have a positive impact on increasing access and completion and help us reach President Obama's 2020 goal to once again have the highest share of college graduates in the world."
Read more in this announcement from the U.S. Department of Education.