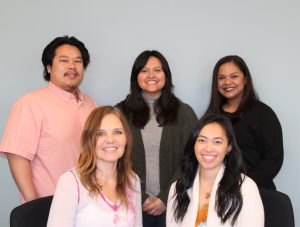 CEHD Career Services staff are ready to engage with CEHD students as fall semester approaches in new and innovative ways. Below they share some tips for connecting with employers virtually, how to engage in a proactive and reflective way on your career goals, and other helpful tips. Make a virtual appointment with Career Services.
What is CEHD Career Services' overall approach to career development?
CEHD students are incredibly talented and our goal is to support them through their career journey starting from the moment they enroll! We take an individualized and developmental approach to the work we do with students, meaning that they are in the driver seat of each appointment, while we provide the support they need whether it is a career assessment, career/major exploration, resume review, searching for positions, interview preparation, salary negotiation, and/or grad school applications.
Every appointment we do is tailored to the specific needs of each student, and our events are specifically designed to be welcoming and reflect the community-oriented culture of CEHD.
How is Career Services approaching Fall 2020 in terms of employer connections and opportunities for students?
We have been working with employers all summer and they are excited to recruit and work with students in Fall 2020! Our plan is to host live online workshops, career fairs, and events to develop meaningful relationships between employers and students. We will be publishing the full list of events on our website so stay tuned!
What are some tips for navigating finding jobs and internships in a virtual environment?
Who am I? What is important to me? What kind of impact do I want to make? What kinds of skills do I want to learn? Asking yourself these kinds of questions can help you feel confident when looking for opportunities and sharing why you are interested. Practice sharing your passions and interests and don't be afraid to say yes to a new experience. It could lead you to your next opportunity.
Connections are also a valuable resource to learn about occupations or fields of interest. Many internships and jobs are shared within connections and verbally, so it can be valuable to have mentors and peers in fields you want to explore or gain experience in. GoldPASS powered by Handshake and LinkedIn are two platforms to start making connections. These are great because you can virtually connect with folks locally or from around the world!
Any additional ways to connect?
Yes! We invite students to schedule a virtual appointment with us. Our career counselors are always looking forward to meeting with students including weekdays in the summer!
Our office also posts great information on our Facebook and Twitter so follow us to stay in the loop!
What are your general tips to keep in mind as we navigate this unique semester?
We know how quickly things are changing in our world today and we know how challenging uncertainty can feel. When it comes to engaging in your career development, remember that where you are at now is one part of the larger life long journey you are on. Whether you are exploring your major and career options, researching graduate school programs or looking to land your first job, know that you can always integrate what you know about yourself and what you're learning now to help you move forward. You can do this by understanding your "sense of self" and reflecting on your skills, values, and interests. Knowing this valuable information will help you feel more confident in taking informed and meaningful action. Connect with your community, family, peers, and resources to help get information you need, process your experiences, and make decisions when needed. You will find that you are not alone on this journey! We are here to support you.