The CEHD Alumni Society honored its 2012 award recipients April 5 at an evening ceremony in the McNamara Alumni Center. The Alumni Society, established in 1956, works to create lifelong connections with alumni, students, and friends of the college, enhance the student experience, and advocate for the college and the University.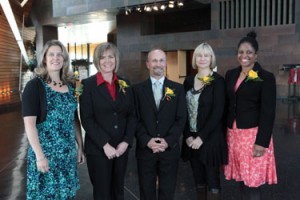 This year's honorees include Laura Zabel, William E. Gardner Pre K-12 Outstanding Educator; Matthew Hoffman, Gordon M.A. Mork Outstanding Educator; Mary Melbo, Larry Wilson award-winner; Susie Miller, Emerging Leader award-winner; Nicola Alexander, Robert H. Beck Faculty Teaching award-winner; Sally Alturki, UCEA Excellence in Educational Leadership award-winner; and Michelle de Haan, Distinguished International Alumni award-winner.
Zabel earned her M.Ed. in mathematics from CEHD and has taught mathematics at Hastings High School for nearly two decades. Hoffman, B.S. in elementary education and M.Ed. in teacher leadership, has been with the Mahtomedi school district for over 30 years and has taught first grade at Wildwood Elementary since 1992. Melbo, Ph.D. in counseling psychology, is an expert consulting psychologist who has worked effectively with human resources and business leaders across a wide range of industries.
Miller, M.Ed. in recreation, park, and leisure studies, is general manager for the City of Edina's Breamer Ice Arena and has established athletic programs to accommodate participants of all abilities and backgrounds. Alexander, professor in CEHD's department of organizational leadership, policy and development, is an outstanding classroom teacher and expert on how preK-12 policy can promote or prevent opportunity for students. Alturki, Ed.D. in educational policy and administration, lives in Saudi Arabia and has founded several schools impacting thousands of children. de Haan, Ph.D. in child psychology, is a Canadian citizen living in England researching developmental cognitive neuroscience.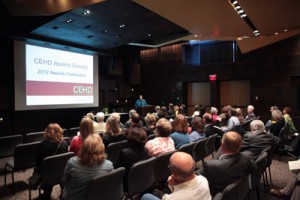 See past Alumni Society award winners here.