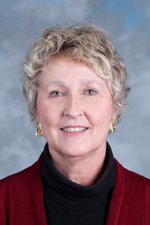 Megan Gunnar, director of the Institute of Child Development in the College of Education and Human Development (CEHD), has been elected to the 2017 class of the American Academy of Arts and Sciences. She is one of three University of Minnesota professors and 228 national and international scholars, artists, philanthropists, and business leaders elected this year.
Founded in 1780, the American Academy of Arts and Sciences is one of the country's oldest learned societies and independent policy research centers. This is the 237th class of members elected. It includes winners of the Pulitzer Prize and the Wolf Prize, MacArthur Fellows, Fields Medalists, Presidential Medal of Freedom and National Medal of Arts recipients, and Academy Award, Grammy Award, Emmy Award, and Tony Award winners.
Gunnar is one of the nation's leading researchers in child development and developmental psychobiology. Her work focuses on understanding how stress early in life "gets under the skin" to shape the body's stress response systems and neurobehavioral development.
"Professor Gunnar is an exceptional faculty member whose research and leadership in her field has improved the lives of many children," said Jean Quam, CEHD dean. "The University of Minnesota and the College of Education and Human Development are extremely proud of her accomplishments."
Gunnar holds the University's highest faculty honors as both a Regents Professor and Distinguished McKnight University Professor. She was recently elected to the National Academy of Education and has been honored with lifetime achievement awards by the American Psychological Association, Division 7 Developmental Psychology, the Society for Research in Child Development, and the Association for Psychological Science. Gunnar has a Ph.D. from Stanford University.
The 2017 class of the American Academy of Arts and Sciences will be inducted at a ceremony on October 7, 2017, in Cambridge, MA.