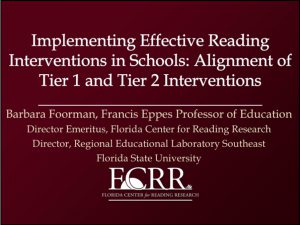 On Sep. 29, 2017, Dr. Barbara Foorman presented on Implementing Effective Reading Interventions in Schools: Alignment of Tier 1 and Tier 2 Interventions  at the 5th annual Distinguished Scholar Symposium.
See Dr. Foorman's presentation here (PDF).
Barbara Foorman is the Frances Eppes Professor of Education, Director Emeritus of the Florida Center for Reading Research, and Director of the Regional Educational Laboratory Southeast at Florida State University. Dr. Foorman is an internationally known expert in reading. She has over 150 publications and was co-editor of the Journal of Research on Educational Effectiveness. Her research has included studies of Pre-K-12 reading assessments and interventions, and literacy development in Spanish-speaking students. Her full biographical statement can be accessed here.