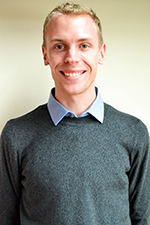 Reese Butterfuss, a fourth-year doctoral student in the Department of Educational Psychology's psychological foundations of education program, has been awarded the College of Education and Human Development (CEHD) Hauge Fellowship.
This award recognizes Butterfuss for his exceptional research productivity. In the four years since he started the program, Butterfuss has published eight papers and has five more under review. In addition, he has presented at national and international conferences 19 times. His research has also been recognized for its high quality by several professional associations. Butterfuss received the Graduate Student Research Excellence Award in 2018 from AERA and the Outstanding Student Paper Award in 2017 by the Society for Text & Discourse.
Please join us in congratulating Reese Butterfuss on this well-deserved honor!