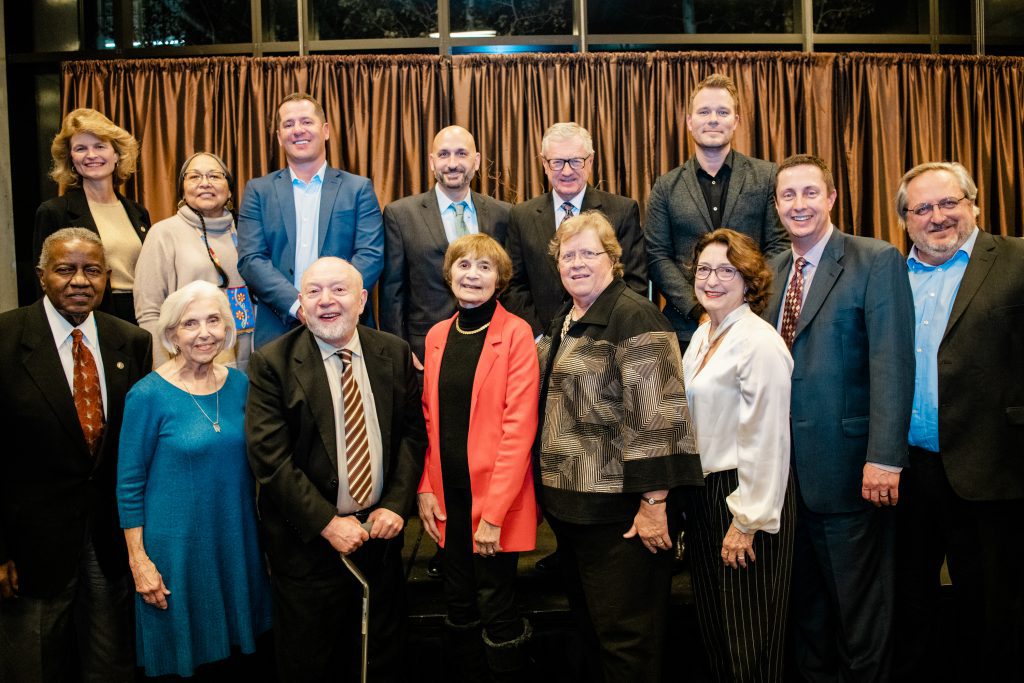 Winners of the 2019 CEHD Distinguished Alumni Awards were recently announced. The award honors CEHD alumni who have excelled in their fields and contributed greatly to their communities. Award recipients belong to a wide range of academic disciplines and career paths, but all are individuals who have made profound impacts in the lives of children, youth, families, schools, and organizations, and whose achievements bring honor to the college. The awards were presented November 21 at the McNamara Alumni Center.
The winners include:
Keith Ballard, BS in sports studies, 2016. Ballard played 10 years in the National Hockey League (NHL), including an appearance in the Stanley Cup finals with the Vancouver Canucks and finishing his career on the Minnesota Wild. While a student at the U of M, he played on two NCAA national championship teams and was a finalist for the Hobey Baker Award, given to the top college men's ice hockey player.
Linda Cohen, MA in educational psychology, 1985; PhD educational psychology, 1986. Cohen earned her PhD as a mid-career change. She became a licensed psychologist, practicing for 20 years. In her previous roles, she taught at Blake School and became the director of the middle school. She also led a major partnership with Henry High School and TCF Bank. This spring, she completed a 12-year term on the University of Minnesota Board of Regents, including a two year term as chair.
Penny George, MA in educational psychology, 1972. George co-founded Sellergren-George Consulting Psychologists, where she helped senior executives select for and build high-performing teams. Today she is board chair of the George Family Foundation and a leader in the national movement to transform medicine and healthcare through the principles and practices of integrative medicine. She also serves on the board of the foundation that supports the Penny George Institute for Health and Healing at Allina Health in Minneapolis.
John Hoffman, MA in educational administration, 1997; PhD in educational administration, 2000. Hoffman has been the vice chancellor for academic and student affairs at the University of Minnesota Crookston since July 2018. He previously worked at California State University, Fullerton; Cal State Long Beach; and Concordia University in Irvine, in roles including dean of students, professor, department chair, and doctoral program director. John has built a record of growing and diversifying student enrollments, promoting educational equity, and increasing faculty and staff diversity.
Bradford Hosack, MA in curriculum and instruction, 2010. Hosack, a lifelong learner, educator, and inventor, is dedicated to changing the way students learn through the design and development of educational software. As a graduate student in CEHD, he teamed up with Charles Miller to co-create Flipgrid—a video platform for recording and sharing student voices. Hosack is currently vice president of engineering and product technology for Carnegie Learning.
Charlie Miller, PhD in curriculum and instruction, 2007. Miller helped to establish and lead the Institute for Design Innovation in CEHD, now known as Educational Technology Innovations or ETI. His early groundwork positioned CEHD as a pioneer in sharing research-based best practices and interventions with teachers. He co-founded Flipgrid—a video platform for recording and sharing student voices which was acquired by Microsoft in 2018. Today, he is partner general manager of Flipgrid at Microsoft.
Alice Moormann, BS in art education, 1960. Moormann has dedicated more than five decades to the important work of voter education and participation in democracy. She became a volunteer with the League of Women Voters Minneapolis at the time of the Vietnam War as a way to learn more about the political process. Since then she has served in many positions for the Minneapolis and statewide leagues, including volunteer coordinator, nominations chair, and co-president twice.
Steven Permuth, BS in mathematics, 1966; PhD in educational administration, 1977. Permuth's career as an educator began at North High, where he was a math teacher after completing his bachelor's degree. He returned to the U and earned a doctorate in educational administration, which led him to faculty and administrative roles at three universities. Today, he is a professor at the University of South Florida, where he also served as dean of the College of Education.
Randall Peterson, BS in agricultural education, 1986; MA in educational psychology, 1990. Peterson is professor of organizational behavior and director of the Leadership Institute at the London Business School. He is an internationally known expert in leadership, team and board dynamics, and conflict management. With a non-traditional background as a social psychologist in a business school, he has conducted research on how chief executive officer personality can affect organizational outcomes; leadership of diverse teams; and board effectiveness.
Iris HeavyRunner-PrettyPaint, MSW in social work, 1997; PhD in social work, 2009. HeavyRunner-PrettyPaint is an internationally recognized expert in Native cultural resiliency and Indigenous evaluation methods. A member of the Blackfeet/Crow tribe, she has more than 35 years of experience as a researcher, evaluator, and educator, and is currently vice president for project management at Kauffman & Associates, an American Indian- and woman-owned management consulting firm. She has a longtime interest in building resilience and persistence for Native students pursuing higher education.
Martha Russell, MA in home economics, 1976; MA in family social science, 1976; PhD in educational administration, 1983. Russell is executive director of mediaX at Stanford University and a senior research scholar at the Stanford Human Sciences and Technology Advanced Research Institute. She is an innovation orchestrator who has established collaborative research initiatives and technology leadership in information communication technologies for national agencies and for technology companies. She also serves on several editorial/advisory boards and has started and advises several startup companies.
Ryan Saunders, BS in sports studies, 2008. Saunders is the head coach for the Minnesota Timberwolves men's basketball team. As a U of M student-athlete, he played for the Gopher men's basketball team, where he was a two-time captain, four-time scholar-athlete award winner, and a 2006 Big Ten All-Academic selection. After receiving his bachelor of science degree, he served as an assistant coach for the Washington Wizards and as head coach for Minnesota's Las Vegas Summer League entry.
Roscoe Smith, PhD in educational administration, 1972. Smith had a 40-year career as a classroom teacher, youth leader, and administrator focused on supporting students and encouraging family involvement. He was the first African American male to be promoted from teacher to an administrative position with the Dallas Independent School District. He designed and implemented the district's first Central Parent Advisory Council, which was recognized as a national model, and later founded the Texas Parent Coordinating Council.
Katherine Tunheim, PhD in work and human resource education, 2008. Tunheim is an expert in organizational behavior, human resource development, and strategy. She had a 25-year career in the corporate sector, managing training and leadership programs at three different companies and running her own consulting firm. After earning her PhD, she joined the faculty of Gustavus Adolphus College, teaching courses on public speaking, management principles, and leadership. She recently was named the inaugural vice president for mission, strategy, and innovation at Gustavus.
David Vick, BS in elementary education, 1967; MA, Educational Administration 1973; PhD Educational Administration 1987. Vick's career included roles as teacher, program coordinator, principal, assistant superintendent, and superintendent. He is particularly proud that as superintendent in Lake Bluff, Illinois, he helped passage of a building referendum, resulting in selling one outdated school, tearing down two old buildings, constructing a LEED-Certified elementary school, and remodeling the middle school.