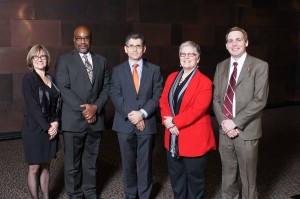 L-R: Brenda Hartman, alumni society president (B.S. '81, M.S.W. '89), Marvin Davis (M.S.W. '97), Halil Dundar (M.A. '90, Ph.D. '93), Peg Lonnquist (Ph.D. '95), Jon Ruzek, director of alumni relations
On November 21, 2013, the CEHD Alumni Society honored three exceptional alumni as part of the college's annual Distinguished Alumni Awards ceremony.
Halil Dundar received the CEHD Distinguished International Alumni Award. Since 1997, this award has recognized outstanding achievements of international CEHD alumni, from master's and doctoral programs, who have contributed to outstanding educational progress in their countries. Dr. Dundar grew up in a small town in Turkey, graduating from Ankara University on national scholarship. He was then awarded a full scholarship by the Turkish Ministry of Education to study in the United States. He chose the University of Minnesota and completed his master's and doctoral degrees from the college's former Department of Educational Policy and Administration, focusing on the economics of higher education. Bringing both diligence and integrity to his work as lead education specialist for The World Bank, Halil has made outstanding contributions to educational progress in Turkey and developing countries in the former Soviet Union, Asian republics, Eastern Europe, and Africa.
Marvin Davis received the CEHD Alumni Society Award of Excellence. Throughout his social work career, Marvin has demonstrated exceptional leadership, holding several important positions at the Minnesota Department of Human Services. He currently coordinates the development and delivery of child welfare training systems designed for county and tribal supervisors, social workers, and resource families. A master of social work graduate from the college's School of Social Work, Marvin has taken on challenging issues in the field of child welfare, such as engaging with fathers and addressing racial disparities in the system. He's also worked with the college's Center for Advanced Studies in Child Welfare to advocate for a common set of child welfare worker competencies to be adopted for use in educating entry-level practitioners.
Peg Lonnquist was the other recipient of the CEHD Alumni Society Award of Excellence.
Dr. Lonnquist has had, and continues to have, a distinguished career as a social justice educator. A doctoral graduate in educational policy and administration, she has held both faculty and administrative roles at Hamline University, Iowa State University, and currently the University of Minnesota. Peg is director of the University of Minnesota's Women's Center, which increases connections for women's success, cultivates socially responsible leaders, and advocates for organizational culture change. Through her work in education she has diligently advanced the mission of equity for all, while bringing a spirit of collegiality, enthusiasm, and a commitment to growth. Peg has been a formal and informal mentor to countless staff, students, and emerging leaders.
The CEHD Alumni Society's slate of awards were recently restructured to more broadly recognize the diverse career experiences and professional achievements of our vast alumni body. The Award of Excellence is presented annually to two CEHD alumni, who have at least 15 years of work experience, have demonstrated outstanding achievement and leadership in their profession, served as mentors to others in their field, and shown exceptional volunteer service. In carrying on the Alumni Society's 45-year old tradition of honoring alumni both in and outside of education, one recipient of the Award of Excellence represents a career in pre-K through 20 educational institutions, and the other recipient represents a career outside of such institutions.
Founded in 1956, the volunteers of the the CEHD Alumni Society have a long record of service to the college and proudly represent over 70,000 living alumni. The Alumni Society has recognized outstanding alumni achievements since 1968.