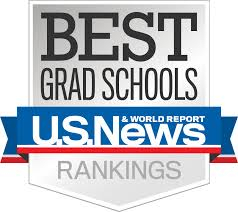 CEHD has five graduate programs among the top 20 in the nation, according to the U.S. News & World Report. In U.S. News' 2020 Best Graduate Schools rankings, CEHD's special education and educational psychology programs placed ninth and 10th, respectively, continuing their top-10 positioning from last year. Counseling and student personnel psychology leaped to 14th place this year and curriculum and instruction landed at 16th. Specialty program rankings are based solely on nominations by education school deans throughout the country.
These four programs join CEHD's developmental psychology program, ranked #1 in the nation. The program was last ranked along with other psychology programs as part of the 2018 U.S. News rankings of the Best Social Sciences and Humanities Schools.
Other CEHD specialty programs ranked by U.S. News include elementary education and educational administration both in 22nd place, and social work in 36th–a major jump from last year's 50th-place ranking.
CEHD was rated as the 12th best public education graduate school in the nation and the 21st overall. To determine this ranking, U.S. News compared 258 schools with graduate education programs. Ratings are based on student selectivity, faculty resources, and research activity, as well as from assessments by peers and educational professionals.