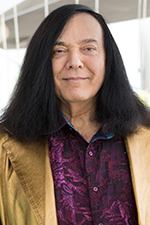 The National Institutes of Health (NIH) is funding a new national center for child maltreatment research that will be co-led by Dante Cicchetti, Ph.D., McKnight Presidential Chair and William Harris Professor of Child Development and Psychiatry at the University of Minnesota's Institute of Child Development (ICD) and Sheree Toth, Ph.D., professor of psychology and psychiatry and executive director of Mt. Hope Family Center at the University of Rochester. Cicchetti and Toth are leaders in the field of child maltreatment, whose collaborative work spans over three decades.
The new Translational Research that Adapts New Science FOR Maltreatment Prevention (TRANSFORM) Center will be launched by the University of Rochester's Mt. Hope Family Center (MHFC) in conjunction with the University of Minnesota's Institute for Translational Research in Children's Mental Health (ITR). Cicchetti is the director of research at ITR.
NIH's Eunice Kennedy Shriver National Institute of Child Health and Human Development (NICHD) selected the multidisciplinary team to receive a grant from the "Capstone Center on Child Abuse and Neglect" program. The $8.39 million award over five years will support the center as a national resource for child maltreatment research and training. It is one of only three academic institutional partnerships in the United States to receive this prestigious award from the NIH.
According to Valerie Maholmes, Ph.D., chief of NICHD's Pediatric Trauma and Critical Illness Branch, the new centers will help raise awareness and understanding about child abuse and neglect on a national level. "Understanding personal history and early exposure to maltreatment may help us provide more targeted responses and improve the long-term health of survivors," Maholmes said.
Cicchetti, along with a team of researchers at the TRANSFORM Center, will focus on two areas: evaluating the efficacy of Child-Parent Psychotherapy, an intensive intervention that focuses on parent-infant relationships for families at risk for child maltreatment, and risk and resilience in school-aged children. Their risk and resilience research will examine psychological, immune, endocrine, physiological, and epigenetic processes linked to early deprivation, trauma, and chronic stress in relation to physical and mental health in adulthood. The center also will launch training programs for future researchers.
Cicchetti is a pioneer in the field of child maltreatment and has received numerous awards for his work, including the Klaus J. Jacobs Research Prize, and several honors from the Association for Psychological Science and the American Psychological Association. He is a fellow of the American Association for the Advancement of Science and an elected member of the American Academy of Arts & Sciences, one of the most prestigious honorary societies in the nation.