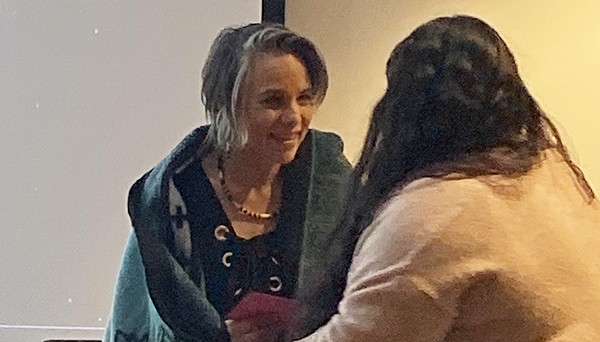 Professor Mary Hermes in the Department of Curriculum and Instruction was recently presented with the Honoring Native American Women award from the American Indian Student Cultural Center (AISCC). She received the honor for her important work with Native American communities. Hermes' research focuses on language revitalization and how it can connect people to the land and the planet. Her work centers around Ojibwe language learners and immersion teachers in K-12 classrooms. She works with schools and teachers to revitalize language that supports Indigenous culture, creating teaching materials based on language documentation though everyday conversations with elders.
Hermes is also the director and founder of Grassroots Indigenous Multimedia, a non-profit organization devoted to the reviving of the Ojibwe language through the creation of language materials.
Learn more about second language education research in the Department of Curriculum and Instruction.