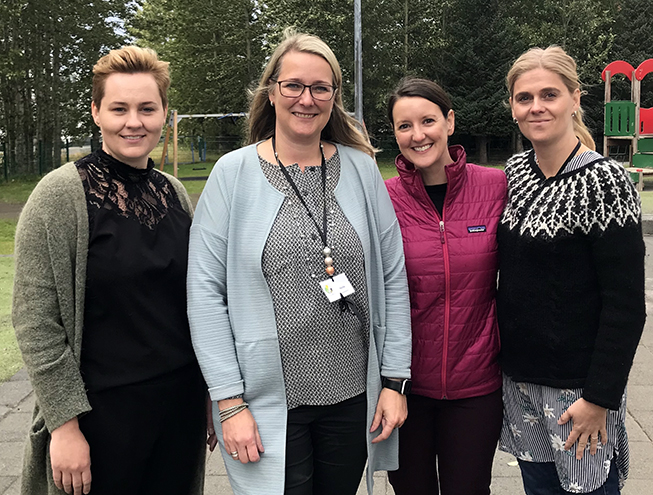 Heather Cline expanded the reach of CEHD programs with the help of a CPAC Professional Development grant this past summer.
Cline, a lecturer in the Family Social Science Parent and Family Education program, used funds for travel expenses to bring a three-day special topics workshop on the "Reflective Dialogue Parent Education Design (RDPED)" to parent and family educators at the University of Iceland.
Icelandic scholars were introduced to RDPED during a summer visit to the Twin Cities to observe Early Childhood Family Education (ECFE) classes in the Minneapolis School District and meet fellow students with whom they've interacted during online parent education classes at UMN. Cline led a short workshop and the group invited Cline to Iceland to teach a larger group.
Her course was another piece in the growing relationship between CEHD and the University of Iceland that began in 2010. Although Iceland has progressive parent leave policies, the country did not have parent education practices. A University of Iceland graduate student, Hrund Þórarins Ingudóttir, came to Minnesota to immerse herself in the discipline and then joined the faculty of UI. UMN faculty helped her build the program and even launch a master's degree in parent and family education in 2015.
"Parent education is a relatively new concept in Iceland," says Cline. "The reality of parenting challenges is universal, and educators at the University of Iceland really see the potential power of parent education to better support Icelandic families."
Cline's itinerary also included meeting with UI's parent education faculty to discuss future collaborations, a tour of preschools in Iceland, and meetups with three UI graduate students to assist them with their thesis projects.
"Our philosophy is that every parent deserves connection and community," says Cline. She adds it's a philosophy that the University of Iceland faculty shares.
""I have been dreaming about the opportunity to travel to Iceland and work with UI students for many years and I am so grateful for the CPAC grant to help make that happen."
Connect to learn more
"Bringing parent education to Iceland"
by Julie Michener, with additional material from CEHD Connect magazine.