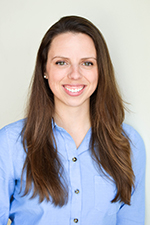 Jeanette Vyhanek, alumni of the counseling and student personnel psychology program, M.A. '17, started off as a high school principal's assistant before realizing her desire to work more closely with students.
"After applying to two other programs out of state, I interviewed an alum of the CSPP program and they couldn't say enough good things about it. That sold me on enrolling at the U of M over the other programs I had applied to" she says.
Due to previously working in a school, Vyhanek notes she was very committed to becoming a school counselor. "That knowledge made the work of graduate school easier to bear," she says.
Vyhanek says the people in the CSPP program made her experience great.
"I enjoyed being in classes with professors who were extremely knowledgeable as well as with other students who shared their experiences."
Vyhanek now is the school counselor for grades 5-8 at Folwell Performing Arts Magnet School in the Minneapolis School district. Her role consists of supporting students in the development of social/emotional, academic, and career skills through classroom lessons, group work, and individual counseling.
Her advice to prospective students: "Visit with current students in the program, if possible. Make sure the program is a good fit for you."
She continues, "It's important to soak in all the information possible while in graduate school, it's much harder after graduating to stay current on research and have lively discussions about different perspectives," she adds.
Outside of work, Vyhanek enjoys ultimate frisbee, running, Nordic skiing, and babysitting her nieces and nephews.