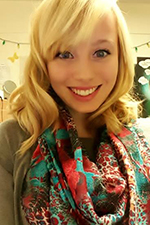 Alyssa Palmer is a doctoral student in the Institute of Child Development (ICD) in the developmental psychopathology and clinical science track. Palmer graduated from The Pennsylvania State University in 2016 with a BS in psychology, with a focus on neuroscience, and minors in biology and sociology. Below, Palmer explains her research interests and what led her to pursue her PhD at ICD.
How did you become interested in the field of developmental psychology?
I first got interested via my intro to child development class at The Pennsylvania State University. We were discussing concepts of positive psychology and resilience and how they could be applied to think about different ideas of prevention.
Why did you choose to pursue your PhD at the Institute of Child Development?
It was one of the top programs in the country, and I was really interested in working with Professor Ann Masten. I was definitely a fan of her work, and the opportunity to work with her was very enticing! I also really liked ICD's community model, which allows you to work with multiple faculty members.
How would you describe your experience at ICD?
Very positive! It has been fun and intellectually challenging to be a part of this community.
What is the most valuable thing you have learned in ICD?  
How to confidently pursue my independent research ideas beginning to end, including creating and running data collections.
How did you decide between development science or developmental psychopathology and clinical science as the track for your PhD?
I was interested in exploring the developmental processes associated with the development of emotion dysregulation and psychopathology in the context of risk. I found it especially important considering the higher base rates of psychopathology in the context of risk.
How would you describe your research interests?
My interests include the effects of childhood adversity on mental health, individual differences contributing to risk and resilience, emotion regulation, physiological reactivity and regulation, parenting and interventions targeting those processes.
What are your plans for after graduation?
Short term, I will be pursuing a postdoctoral position to gain additional skills in my discipline. In the long-term, I hope to gain a faculty position at a research institution.
What advice would you offer to incoming ICD students?
Don't forget to ask for help! You have a community and many resources here to help you get started and guide you through the graduate school process. No one expects you to know everything, and no one does know everything, especially when starting out.