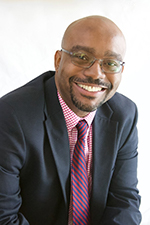 Quintin Love, quantitative methods in education (QME) alumni PhD '14, was a middle school math teacher who initially pursued an advanced degree in mathematics education. However after taking some courses in the Educational Psychology department, knew he had to switch.
Love found his home in the quantitative methods in education (QME) program.
"Given my background in Mathematics, the QME program was a perfect fit," he says.
Love's favorite part about his graduate experience was his cohort. "We challenged and supported each other. I am still in contact with most of the students, and consider many of them family," he says.
Switching programs paid off. Today, Love is a psychometrician at Questar Assessment Inc. where he is responsible for psychometric analyses and technical and non-technical presentations/papers for multiple large-scale state assessment programs.
"Have the end in mind…," Love advises prospective students. "…the coursework is relatively easy when compared to the exams and thesis. Every article read should be summarized and stored for future manuscripts."