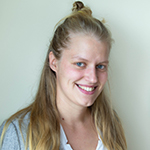 Marianne Elmquist, a PhD student in the Department of Educational Psychology's special education program and a researcher in IGDILab, has been selected as an Emerging Scholar by the Bridging the Word Gap (BWG) National Research Network.
As an BWG Emerging Scholar, Elmquist will have the opportunity to work with Ann Kaiser, Susan W. Gray Professor of Education and Human Development in the Department of Special Education at Vanderbilt University. She plans to study parent-child interactions in the use and development of augmentative and alternative communications systems for children with complex communications needs.
To kick off her program, Elmquist will attend the Society for Research in Child Development (SRCD) conference in Baltimore on March 20 where she will meet the BWG leadership team and attend an SRCD pre-conference symposium on bridging the word gap.
Please join us in congratulating Marianne Elmquist on this phenomenal accomplishment!