By Na'im Madyun
Dan Snyder, owner of the Washington Redskins,  not only declared that he will never change the nickname of his franchise but called upon his fans to actively campaign for nickname preservation (though his efforts with #RedskinsPride may have backfired).  This campaign has come directly to the U of M campus and the nature of our response is critical to the quality of education our students will receive.  To articulate our response, we must first understand why Snyder is so resistant to this nickname change.
I unofficially noted at least 154 college teams that changed their nickname over the last 100+ years.  Of those teams, most seemed to change in an attempt to sharpen their brand.  The University of Alaska Fairbanks changed their nickname from the Polar Bears to the Nanooks in 1963.  Roughly 20 colleges changed their nicknames from Aggies (possibly a derivative of their original agricultural mission) or Normalites/Pedagogues (a common nickname among many Normal or Teacher schools) to nicknames like Rams and Spartans.  The Akron Zips even changed their name from the Zippers in 1950 because the commercialization of the zipper made the nickname no longer fashionable.  Of the 154 college teams identified, 32 teams changed their nicknames from an explicit reference to an American Indian.  Although it is not pervasive and these are college teams, it is not uncommon for sports teams to change their nicknames. So, Snyder's stance is not formed by a lack of precedence.
Is his stance grounded in the potential lost revenue resulting from changing the American Indian nickname?
A study out of Emory found that American Indian related sports branding has actually resulted in a downward trend of revenue generation for sports teams in general and the colleges that changed their nickname from American Indian names actually saw a long-term increase in revenue. So, it's not likely his response is primarily financial.
Is Snyder's stance rooted in  preserving the honorable origin of the name?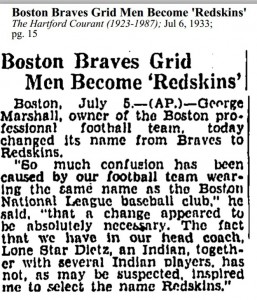 According to the former owner, it would be inaccurate to claim the choice of the Redskin nickname was intended to honor American Indians.
Is his stance informed by something more personal?
"When we have to change our mind about a person, we hold the inconvenience he causes us very much against him" (Nietzsche, 1966).   If Snyder backs down, he risks  not only becoming a caricature and a punchline but "accepts" a label of being ignorant, uncouth or savage in the face of the very population he stands against.  An excerpt from Snyder's inner monologue could easily confess, "How dare THEY empower themselves to  characterize me in such a way." The real foundation supporting this fictional excerpt is precisely why those interested in the development of the student must also take a stance.
But this stance must be a reflection of morality and not manners.   A change that reflects manners is done out of courtesy and yields mostly cosmetic, conservative creations. A change that reflects moral conversion is courageous and compositionally distinct from its original immoral connotations.  Of the 32 college teams that changed their American Indian referenced nickname, only 8 did not include in their changed nickname a reference to a hawk, wolf, buffalo, the color red or some other easily associated American Indian visual or archetype. Arguably, they were changes of courtesy rather than composition.
A compositional change is important not just because research supports how superficial acknowledgment of American Indian culture can undermine its educational value (Hermes, 2005) or that the psychological consequences for American Indian students of being branded far outweigh any positive associations  (Fryberg, Markus, Oyserman & Stone, 2008). It is important because of the climates we implicitly endorse and nourish absent a stance for compositional change.
"Charlene Teters stood alone and fearful at a football game in Champaign holding a small sign that read, 'We are human beings and not mascots.' 
Many of the fans and alumni of the 'Fighting Illini' were at first puzzled and then angered at the audacity of this young Indian lady. Some spat on her as they walked past and others flipped burning cigarettes at her" (Giago, 2007)
When we give ourselves permission and a pathway to trust Others, we ultimately provide a mechanism to no longer fear but embrace the alien part of ourselves that is necessary for actualization. We become more comfortable with our flaws, our mistakes, our immoral impulses and we learn to build upon that knowledge to achieve our desired outcomes in a less internally and externally toxic manner. That is the climate we should want for our students.  That is what a courageous moral stance will provide.
The question is: How would a truly courageous moral stance against the Washington Redskins nickname look on this campus given the defiant, personal stance of Dan Snyder?
Na'im Madyun is the associate dean for undergraduate and diversity programs in the College of Education and Human Development.