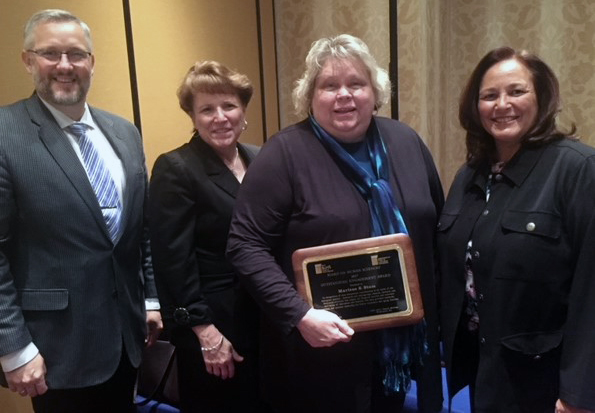 Professor Marlene Stum was honored by the Association of Public and Land-grant Universities Board on Human Sciences, Inc. (BoHS) Monday. The Board on Human Sciences Awards are annually presented to honor national leaders working to advance human sciences in higher education.
A professor in the Department of Family Social Science and Extension, Stum was the winner of the BoHS 2017 Outstanding Engagement Award. The award recognizes a campus-based or a state-level faculty member with exceptional creativity and scholarship in the development, application, and evaluation of outreach, extension, and public service programs.
Driven by a social justice perspective, Dr. Stum's research and extension work focuses on improving financial literacy and decision-making in families facing later-in-life issues, including health care directives, transfer of personal property and inheritance decisions. Her scholarship and outreach also focuses on family dynamics and behaviors around long-term care, and her work has contributed to public and private policies impacting the long-term care risks facing the country's aging population. Stum is an early innovator in the use of technology to increase access to the consumer information materials for various audiences.
More about the BoHS awards
The awards are part of the broader BoHS mission of advancing the intellectual integrity and stature of the human sciences at APLU-member institutions. The awards are aimed at supporting the development and stewardship of academic excellence in human sciences; advocating for visibility and leveraging resources to support human sciences research, extension and teaching programs; and educating leaders regarding the capacity of the human sciences to solve human problems.