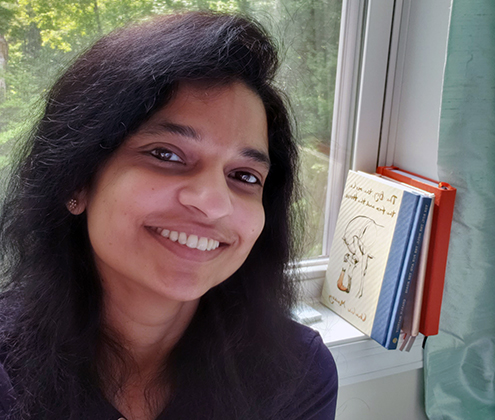 Stacey Horn, Family Social Science Department Head and professor, today announced that Sumitra Madhuri Ramachandran has joined the Department of Family Social Science as the Graduate Program Coordinator. She brings a wealth of knowledge about the graduate student experience at the University of Minnesota, with particular expertise in working with international students.
She most recently has been working in the University of Minnesota's International Student and Scholar Services office where she served as F-1 Visa student advisor and program assistant. She was honored earlier this year by the U of M's Global Programs and Strategy Alliance with the Josef Mestenhauser Student Award for Excellence in Campus Internationalization. This award acknowledges important work being done by students at the University of Minnesota to internationalize the curriculum and campus.
After serving as the executive vice president of the Council of Graduate Students (COGS), Madhuri Ramachandran founded the Council of International Graduate Students (CIGS) in 2013 in order to better address the needs of international graduate students at the University of Minnesota. In her role with International Student and Scholar Services (ISSS), she has co-facilitated Cross-Cultural Discussion Groups to encourage international and domestic students to share their experiences and also collaborated with ISSS on the Intercultural Workshop Series as a content expert on India. Across all of these experiences, Sumitra advocates for international students to ensure that their voices are heard and they can fully contribute to the university community.
Madhuri Ramachandran holds a bachelor of arts degree in English from Indira Gandhi National Open University, New Delhi, India. At the University of Minnesota, she has earned a Post-baccalaureate Certificate and a Master of Science in Science and Technical Communication, a master of arts in Multicultural College Teaching and Learning, and mostly recently, a Post-baccalaureate Certificate in Adult Education in the Department of Organizational Leadership, Policy, and Development (OLPD as well as a M.Ed. this summer.