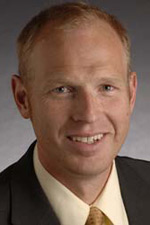 Couple and Family Therapy program director Steven Harris contributed an article to the Institute for Family Studies blog: "Feeling Ambivalent About Your Marriage? So Is Everyone Else."
He explains how ambivalence is a part of being in a committed relationship and how to handle it, while giving examples from couples he's worked with through discernment counseling.
Harris is a faculty member in the Department of Family Social Science and the associate director of the Minnesota Couples on the Brink project. Read more about his research on his profile page.