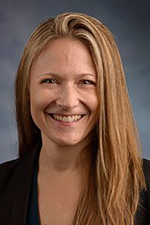 Sarah Carlson, an alumni of the psychological foundations in education program, received her bachelor's degree in psychology, where she found an interest in research and applying what she was learned to an educational environment.
This led Carlson to look for educational psychology programs and, later, to complete both her MA (2008) and PhD (2011) in the psychological foundations of education program.
Carlson explains how the "theoretical and practical" information she learned in the Department of Educational Psychology helped prepare her to, "work with schools, students, teachers, and administrators to conduct research and also provide training for helping educators make instructional changes in the classroom and school systems as a whole."
Today, Carlson is an assistant professor at Georgia State University (GSU) in the Department of Educational Psychology, Special Education, and Communications Disorders (which will be changing to the Department of Learning Sciences beginning fall 2018).
"My responsibilities include teaching undergraduate and graduate students courses in memory and cognition and the psychological foundations of learning. I also conduct research that focuses on understanding human learning through assessing readers' cognitive processes and products of comprehension."
Carlson wants students to know: "The Department of Educational Psychology at the University of Minnesota is one of the best in the field. I am not stating this out of my biased experience, but rather, because of its ranking and reputation both nationally and internationally."
She also emphasizes the renowned faculty and research at the Department of Educational Psychology, both of which provide students with ample opportunity for networking and learning.
Carlson has a continued collaboration with the U of M's Department of Educational Psychology where she has been developing a diagnostic reading comprehension assessment (i.e., MOCCA) with Dr. Mark Davison (U of M Ed Psych faculty), Dr. Ben Seipel (U of M Ed Psych alumni) and Dr. Gina Biancarosa (University of Oregon, where Carlson was for 6 years post graduation and until she relocated to her current position at GSU).
Carlson's advice to students would be, "Be patient with yourself and the process of moving through your graduate program, and enjoy your time in graduate school."
Outside of work, Carlson enjoys cooking, hiking, and gardening. She was also recently certified as a yoga instructor and practices and teaches regularly.