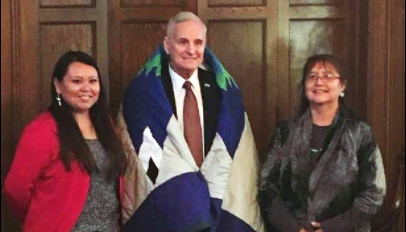 Vanessa Goodthunder, an M.Ed. candidate in the Department of Curriculum and Instruction, and has gone on to make major strides in tribal issues advocacy and language revitalization in Minnesota and beyond. Governor Mark Dayton heard Goodthunder speak about her work to revitalize the Dakota language and asked her to serve as assistant to the chief of staff focusing on tribal issues, reports the Redwood Falls Gazette.
"During the seven months I was in the governor's office I learned a lot about government and what it means to be a leader," said Goodthunder. "I never imagined I would work in government, and even though the role was a short one I think I was able to make a difference for the tribes."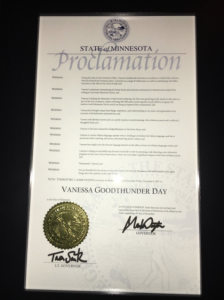 Dayton recognized her work by declaring December 8 as Vanessa Goodthunder Day in Minnesota. Gooddthunder tweeted in response to the honor, "Happy Vanessa Goodthunder Day in the State of Minnesota. Pidamayaye Governors Office for helping me grow my confidence in my voice and perspective. I'm so honored to have been on this team and now to help open up a 0-3 Dakota Immersion School at the Lower Sioux Community. Wopida."
Goodthunder will continue her work in the Lower Sioux Indian Community as director of the Head Start program where she received a $1.9 million grant to launch an early childhood Dakota language immersion aimed at revitalizing the Dakota language.
In addition, Goodthunder, helped to launch a Dakota language app with a grant from the Minnesota Indian Affairs Council, which is expected to be launched publicly this year, according the Star Tribune.
"My language is part of me," she said. "Without it I am not whole."
Read the more about Goodthunder in the Redwood Falls Gazette.
Learn more about the M.Ed. and teacher licensure programs in the Department of Curriculum and Instruction.