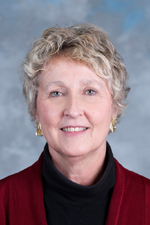 Megan Gunnar, Ph.D., Regents Professor, Distinguished McKnight University Professor, and Director of the Institute of Child Development, is the 2018 recipient of the Lifetime Achievement Award from the International Society of Psychoneuroendocrinology (ISPNE).
ISPNE promotes and disseminates knowledge on hormones, their interactions with brain, and body processes and behavior, and their clinical applications. The organization's prestigious lifetime achievement award is given to outstanding scientists in recognition of their contributions to the field of psychoneuroendocrinology.
Gunnar earned a Ph.D. in psychology from Stanford University in 1978 and completed a post-doctoral fellowship in developmental psychoneuroendocrinology at Stanford Medical School. Gunnar's laboratory at the Institute of Child Development, the Human Developmental Psychobiology Lab, is dedicated to studying how the combination of temperament and experience shapes a child's ability to manage stress as she or he grows up. Her work examines the physiological side of stress and the effects of early experiences, specifically international adoption and adverse early life care. Many of her studies involve collecting and analyzing cortisol, a hormone that helps individuals respond to stress.
Previous recipients of the ISPNE lifetime achievement award include Seymour Levine, who is widely considered to be the father of developmental psychoneuroendocrinology, and Wyllie Vale, whose laboratory isolated and determined the structure for the releasing hormones for ACTH and growth hormone. Of the 15 individuals who have received the award, only one other woman, Mary Dallman, who discovered that comfort foods reduce the physiology of stress, has been honored with this award.
Gunnar will accept the award at the ISPNE annual conference in Irvine, Calif., in September.