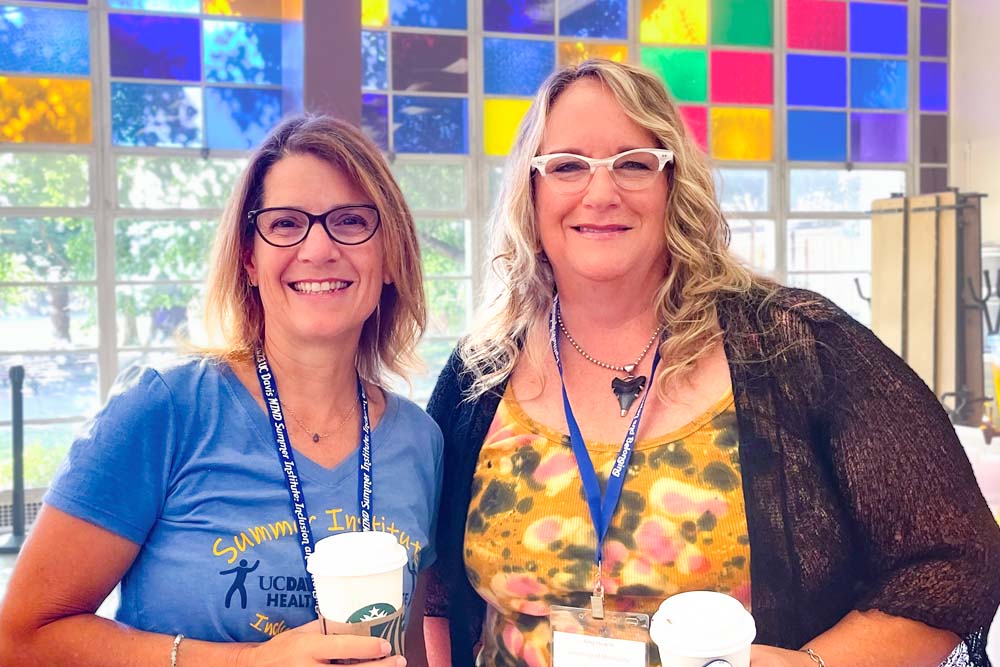 In a July keynote address at the UC Davis MIND Institute, ICI Director Amy Hewitt urged disparate segments of the disability community to work urgently, and holistically, for the inclusion of people with intellectual and developmental disabilities (IDD) in communities.
Decades after the passage of federal and state laws and regulations mandating accommodations to put people with disabilities on more equal footing in housing, education, and the workplace, the number of people with IDD who live in their own homes, attend school in fully integrated classrooms, and work in competitive employment remains stubbornly low, Hewitt said. The event was the annual MIND Summer Institute on Neurodevelopmental Disabilities in Sacramento, California.
The event created an opportunity for participants to engage in important discussions about how we can learn more about inclusion from one another and work together to create positive change, said Amber Fitzgerald, a program manager at the UC Davis MIND Institute.
"The keynote presentation by Amy provided an important look at inclusion across the lifespan and ignited conversations among participants that carried on throughout the day," Fitzgerald said.
Hewitt pointed to persistent, significant stagnation for students with extensive support needs, about 97 percent of whom are still placed in separate schools or in self-contained spaces instead of in general educational settings. Fewer than a quarter of people with IDD work in competitive, integrated employment. Nearly half of adults with IDD said in surveys that they have been excluded from religious activities.
"We just haven't gotten it right," Hewitt said following the event. "We've had grand ideas, but we really haven't figured out true inclusion, and that's on all of us, because we created these systems. The silos we've built in the disability service community underscore the importance of us working together and learning from each other." A mix of educators, health care providers, caregivers, individuals, and families attended the meeting.
Hewitt said she was struck by the number of people approaching her after the session who felt similarly.
"Many of them said these ideas really resonated with them. We're all so focused on our niches, and if you're a parent or a clinician or a teacher, you're locked in on what's happening right now for a child," she said. "You really have to think about supporting people in every stage of life. If you're working with an adult and have no context of their childhood and what came before, you're missing out on a lot. And if you're working with an infant and you don't have expectations that higher education and a career will, one day, be an option for them, it has an effect."
Fitzgerald said the comments in written feedback after Hewitt's session echoed these thoughts. Combining empirical evidence from across the disability field with her experience as a family member of someone with disabilities was powerful, several attendees said.
It also reflects ICI's breadth of research and training in educational policy, global disability rights, community living and employment, and early intervention. Several times a year, ICI's full staff convenes to exchange ideas across those focus areas.
What's needed now, Hewitt said, is to take that unified message into the broader community.
"We've built this disability support system for people with disabilities, but then we don't have expectations of the wider community to be part of that. Whether it's a faith group, schools, or just communities in general, everyone needs to play a role."