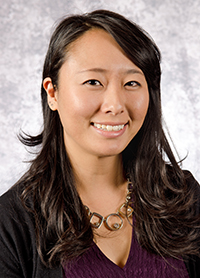 Momoko Hayakawa, Ph.D., is a research associate at Twin Cities PBS, where she primarily develops science-based curriculum for young children. She earned her Ph.D. at the Institute of Child Development (ICD). In a recent interview, she shares how her experience at ICD helped prepare her for her current role.
Why did you choose the Institute of Child Development?
I chose the Institute of Child Development because of the breadth of opportunities the program offered. Not only did ICD provide research and teaching experiences across numerous areas of psychology, but it also helped me understand my particular field within the context of other fields. I truly value the ecological systems framework that's woven into every area at ICD and the representation of child psychology from theory to application.
How would you describe your research interests?
My research interests lie in the intersection of early childhood education, family engagement, and public policy. My research is motivated by the question: How can we efficiently use public programming to support diverse communities in providing a high quality educational experience in the early years so that all children are ready to succeed in school?  
How would you describe your current role?
I currently direct all aspects of research for the development of a new superhero TV show for children, as well as accompanying digital games, activities, and apps at Twin Cities PBS. My key role is to help develop a kindergarten-third grade school readiness curriculum aligned to the Next Generation Science Standards, and oversee the national implementation and evaluation of the program. I also conduct formative testing to help decide on the characters and stories for the shows, as well as to make decisions on digital game development.
How did ICD prepare you for your career in the private sector?
Twin Cities PBS is a non-profit organization. ICD prepared me for my current position by exposing me to various experiences that blended the theoretical aspects and application of child development research to the real world. As a graduate student, it was eye-opening to see that so many different areas of research were possible under the umbrella of "child development." In the children's transmedia world, the knowledge necessary to make strong television and digital games spans across cognitive development, socio-emotional development, intervention/prevention, risk/resilience, physical development, education, and research methods. ICD provided me with a strong foundation to understand children from an interdisciplinary framework!
If you could give advice to future ICD students, what would you say?
A Ph.D. from ICD is a giant window of opportunity. There are ICD alums everywhere (both geographically and in terms of various companies). While in graduate school, connect with as many people as you can outside of your specific area of interest – you never know when those connections will lead to a new pathway or a new collaboration!