Timothy Piehler, assistant professor of Family Social Science, was awarded the Rising Star Faculty Award at CEHD's 2019 Women's Philanthropic Leadership Circle Awards presentation at the Town and Country Club. In accepting the award, Dr. Piehler expressed gratitude to donors and CEHD leaders and shared how the award will support his research. Here are his remarks.
Good morning –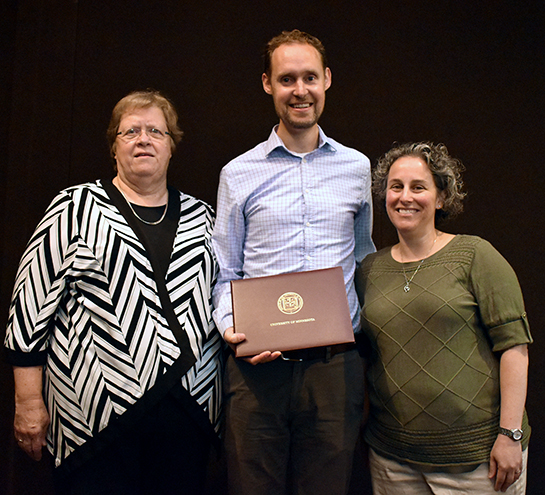 Let me offer my sincere thanks to the WPLC for this award, as well as Dean Quam and Deborah Dillon and Serena Wright. Thank you so much – this is a great honor for me and I'm so appreciative of the recognition and support of my work.
As a part of this process, I've really enjoyed learning more about the WPLC and the important work that you all do… We all benefit when women lead and supporting future female leaders is a cause that is very close to my heart. So, again, I am so honored to be invited to join you all today and be present to witness these accomplished students receive their awards.
It also fun to come to Town and County today – I live only a few blocks from here on the other side of the river. Up to this point, my primary association with being here has been watching my children sled down the large hill across the road at very high speeds. So I'm appreciating being here without there being any imminent danger to my children.
Upon being notified that I was selected for the award, I looked through the list of past winners and was very impressed and humbled by the incredibly esteemed group of faculty who had been previously selected. I also noticed something else about the list – all of the previous awardees were women. My first reaction was – hmmm – was this a mistake that I was selected? I admit to reaching out to Serena to confirm that I had in fact been chosen and that there hadn't been a mix up. Before I heard back from Serena, I shared the news of the award with my lovely and supportive wife Sarah who is here with me today. Her first reaction was, yeah – that is probably a mix up. I later heard back from Serena who confirmed that I was in fact properly selected. So I was grateful for that.
In speaking today, Serena asked me to share my journey with you all. And let me say as an introvert, there may be few words that strike more fear in one's heart. But, I overcame my initial trepidation so that I can tell you all a bit about my work so that you may know more about what this award is supporting.
I've devoted my career to supporting children and their parents. First, as a clinical psychologist, I devoted many years to working directly with families in crisis – my specialty as a therapist was helping families cope with severe child conduct problems, things like aggression, defiance, and also substance use. Through this work, I saw firsthand the devastating impact these issues have on youth and their families, including damaged relationships, educational failure, and involvement in juvenile justice. While I believe I often made a difference in the lives of these families, too often it felt like the behavioral issues were beyond the reach of what I could provide in a therapy setting. It was really my own failing in these challenging cases that marked a turning point in my career. I became a firm believer in the potential of prevention. If I could provide effective support to youth and their families prior to the development of more serious problems, I knew my work could have a much greater impact.
I became a firm believer in the potential of prevention. If I could provide effective support to youth and their families prior to the development of more serious problems, I knew my work could have a much greater impact.
As I shifted my focus to prevention, I continually saw opportunities to improve upon what has been the status quo in this area. Prevention programs identify youth or families who seem to be at risk for developing problem behaviors, and then try to teach skills or alter the environment in ways that may reduce that risk. These programs typically try to address any and all risk factors that could be present in families, including teaching parenting skills, teaching youth skills to better manage their behavior, addressing aspects of the home environment, and school risk factors. I found that most existing prevention programs tended to provide the same content – all of these different components- to all families, no matter their needs or level of risk, often using a "one-size-fits-all" approach. My own clinical experiences highlighted the real diversity of both strengths and risk factors among these families, but existing programs didn't respond to the unique needs of each family. Because oftentimes these programs involved so many components, they were often very expensive, making them difficult to use very widely. Finally, while these programs worked well for some families, many families dropped out of services or did not seem to respond well.
With these challenges in mind, I have devoted my research to improving our approach to preventing youth conduct problems. Rather than using the same approach for all at-risk youth and their families, I believe programming must be personalized to best meet families' individual needs. By providing just what is most likely to be effective and eliminating unnecessary services, we may improve outcomes while also being more efficient. This will result in reduced cost and a broader reach of services. However, we have a lot of work to do reach this goal. By evaluating how different types of families respond to different types of programming, I'm working to develop evidence-based programs that can be responsive to the unique needs of each family.
My work takes place with high risk families in variety of contexts, from families coping with homelessness or military deployment, or families dealing with poverty and limited resources. One of the things that stands out in my work with families across these challenging circumstances is how often families are female headed whether as single parents or effectively serving as a single parent with an absent co-parent. So often it is mothers who step up to show their strength when supporting their children in the face of these types of challenges. My goal is to build upon this strength to provide these mothers with just the tools they need to give their children their best possible outcomes.
Your award will help support the research that will directly impact these at-risk families. I'm so grateful for this support. I will take this award not just as a recognition of my work, but perhaps even more so – a call to action. As a man, I think my role in supporting and empowering women is more important now than it has ever been. I truly believe that when women lead, we all benefit. Thank you again for this honor.
More about the event
The CEHD Women's Philanthropic Leadership Circle also presented awards to graduate students Fatima Tufail and Christina Zdawczyk. A doctoral student in the Department of Organizational Leadership, Policy, and Development, Tufail thanked the assembled group via video from Pakistan, where she is conducting research about the education of women and girls. Zdawczyk is a doctoral student in Educational Psychology conducting research about the promotion of women and girls into STEM (science, technology, engineering and mathematics) fields.
Emceeing the event was Deborah Dillon, CEHD senior associate dean for graduate and professional programs and CEHD Dean Jean Quam discussed the importance of supporting faculty scholarship in retention efforts by the University. Rebecca Ropers, University of Minnesota vice provost for faculty and academic affairs and professor of higher education, delivered the keynote address.