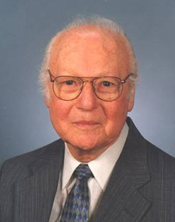 We are saddened by the passing of Josef Mestenhauser, emeritus professor and international educator extraordinaire in the Department of Organizational Leadership, Policy, and Development (OLPD), 89. Professor Mestenhauser was a leading figure in the development of the field of international education and taught in the comparative and international development education (CIDE) program before his retirement in 2002. He is survived by his wife, Pat, and their three children and families as well as extended family members here and in the Czech Republic, and friends and colleagues around the world.
A public memorial at the University will be held on Saturday, October 3, 2015, 1 – 2:30 p.m., with a reception to follow in the Cowles Auditorium, Humphrey Center, 301 19th Avenue S (U of M West Bank), Minneapolis, MN 55455. See information and post a tribute at the Mestenhauser Legacy website.
Read the news obituary, "U Professor Josef Mestenhauser championed Czech culture," published in the Star Tribune on April 1, and the family's obituary posted in September at Josef A. Mestenhauser.
See also his biography on the Mestenhauser Legacy Initiative web page. A story about his life's work, "All hands on deck," is part of CEHD's Connect magazine, spring/summer issue.
Memorials are preferred to the Josef A. Mestenhauser Legacy Fund, Fund #8710, or the Josef Mestenhauser Distinguished Alumni Fund for International Education, Fund #4371, through the U of M Foundation.
Last update October 2, 2015