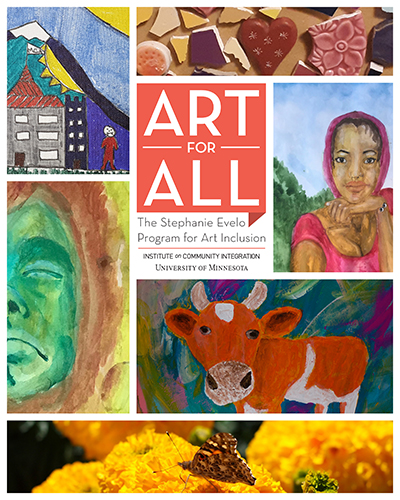 Pop artist Keith Haring once said, "Art is for everybody." Perhaps the best illustration of the statement is the Institute on Community Integration's (ICI's) Art for All: The Stephanie Evelo Program for Art Inclusion.
The program connects artists with disabilities to the broader arts communities around the Twin Cities. Through exhibits and other events, Art for All (AFA) creates inclusive spaces for discussing, promoting, selling artists' work, and expanding their practice. The AFA endowment was founded by Sheryl and David Evelo, in partnership with ICI, in memory of their daughter, Stephanie Evelo. She was a gifted artist and a dedicated employee and colleague of ICI.
Since its founding, AFA has hosted several exhibits, the most recent entitled entrance, located in the Blythe Brenden-Mann Community Center at the new home for ICI, the recently opened Masonic Institute for the Developing Brain. "It's a nod and celebration of emerging artists, the first artists in the new building, the first in the entrance of the Art for All Gallery," says Program Manager Nik Fernholz. "entrance is when we are first taking notice of artists who are not in the mainstream art world and who typically are not taken as serious artists." The exhibit, which was to run until the end of the year, has been extended into January.
Up next for AFA is a collaboration with ICI's LEND Fellowship program. Students at Transition Plus, a high school in Minneapolis, will produce a mural project with their art teacher while AFA will curate a practicing artist with a disability to guide the project throughout its three-to-five-month production. "There will be a focus group of students, muralists from the community, and other artists with disabilities to drive the content and the connection to the community," Fernholz says. "This curated artist will receive a split solo show in the Art for All Gallery and the art spaces throughout the high school, and AFA will have a group show featuring the upper-class students who are transitioning into a broader art practice after high school."
Learn more at art.ici.umn.edu