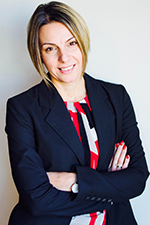 Panayiota Kendeou, Guy Bond Chair in Reading and professor in the Department of Educational Psychology's psychological foundations of education program, shared expertise and held an on-camera focus group with KSTP Channel 5 News on misinformation (recorded prior to the start of the COVID-19 pandemic).
The KSTP News investigation, "Vaccinating Misinformation: Past outbreak highlights dangers of current 'info-demic" aired May 11.
In the segment, Kendeou shares findings from her past research on misinformation around vaccines and autism–which she and her colleagues conducted at that Minnesota State Fair in 2016. Kendeou also leads the focus group through an exercise demonstrating how easy it is to be duped by misinformation.
Watch the KSTP segment here (Kendeou appears at the 2:40 minute mark.)
Kendeou and her research group recently published several papers on how to reduce vaccine misinformation and the role of language in effective communication, including an edited book on Misinformation and Fake News in Education.
Learn more about Kendeou's research in the Reading + Language Lab.