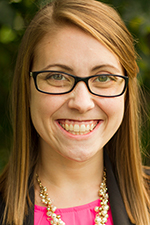 Marin Thuen, alumni of the counseling and student personnel psychology program, MA '15, is a school counselor at Olson Middle School in North Minneapolis. In her role, Thuen does individual and small group counseling, classroom lessons, crisis counseling, therapy referrals, and serves on several school-wide teams.
"I do a lot of collaborating with teachers, administration, and social workers to support student success," she says.
We asked Thuen some questions about her experience in the CSPP program, here's what she said:
Q: What did you most enjoy about your experience in your program?
"One of the things I enjoyed most about this program was my cohort! Having almost every class with the same group of supportive, kind, and funny people for two years was an amazing experience. It is very energizing to be surrounded by people who are passionate about the same thing you are. I now have life-long friends and colleagues in the field with whom I can share the struggles and rewards of school counseling, call on the phone after a difficult day, consult and collaborate with, and learn from."
Q: What was most challenging?
"The most challenging thing for me was to get used to being vulnerable and accepting and appreciating constructive feedback. From the very first semester of classes, you have to get used to giving and receiving feedback on your counseling skills from both professors and classmates. Your classmates watch you doing mock counseling sessions in person and eventually real counseling sessions on video and give feedback. This was simultaneously the most helpful and most difficult part about the program. It really forces you out of your comfort zone and helps you grow as a counselor."
Q: What's next for you?
"I'm getting ready to move to Dubai. I recently accepted a middle school counseling position in an international school there! My husband and I will be moving in August."