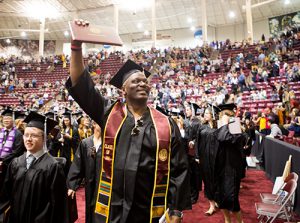 Marion Barber Jr. is persistent.
As an All-Big Ten running back for the Golden Gophers football team in the late 1970s, Barber was a record-setting player. In 2017, at age 57, Barber's determination off the field culminated May 11 when he received his bachelor's degree from the University of Minnesota as part of the commencement ceremonies for the College of Education and Human Development. He graduated with a major in youth studies from the School of Social Work.
Barber finished his Gophers football career as the all-time record holder for rushing yards (3,094), rushing touchdowns (34), and 100-yard rushing games (12). Those records have since been broken, but he still ranks sixth all-time in program history for total rushing yards.
All of Barber's sons have played football for the Gophers, including former Dallas Cowboys Pro Bowl running back Marion Barber III, former Houston Texans safety Dominique Barber, and current Gophers linebacker Thomas Barber.
In fall 2015, Marion Barber Jr. started back on his academic career at the U of M, knowing he would need two years of credits to complete his degree this spring.
"Once I saw the commitment required, I decided it would be worth it," Barber said. "And, believe it or not, the time has gone by fast and been enjoyable. I have really appreciated all of my classmates, professors, and advisers who made me feel welcomed."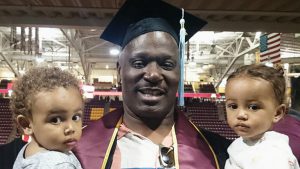 Barber, a Maple Grove resident, is particularly proud of his perfect attendance in all of his classes, as well as his record of mostly A's (and a few B's). Outside the classroom, Barber worked as an educational intern at Armstrong High School. He now has a full-time position as a special education assistant at the school. He is also an assistant football coach there.
Barber said he has always been interested in youth development and children. After nearly 40 years since beginning his time at the U of M, he feels that he has something to offer young people — especially lessons about reaching high for goals and maintaining perseverance.
See more on Marion Barber Jr. in the Star Tribune and the Pioneer Press, and on KARE 11, KSTP TV, and CCX Media.