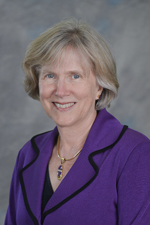 For her field-shaping contributions to the study of risk and resilience among children, the University of Minnesota Board of Regents unanimously approved the appointment of Ann Masten as Regents Professor at its June meeting. She joins a select group of 30 professors at the U of M who have earned this highest faculty honor.
Regents Professors are recognized for their national and international prominence and for their exceptional accomplishments in teaching, research, creative work and contributions to the public good. The program provides a stipend of $50,000 annually, with $20,000 dedicated to a salary augmentation and $30,000 dedicated to a discretionary research fund.
Masten, Distinguished McKnight University Professor and Irving B. Harris Professor of Child Psychology in the Institute of Child Development, is an expert on child development, children's resilience and interventions promoting children's adaptation in the face of risk, adversity and trauma. Since the late 1980s, she has conducted a series of studies focused on displaced children and youth, particularly looking at homeless and highly mobile children in Minnesota. Additional research areas include immigrant youth, refugees, war survivors and victims of natural disasters.
"Regents Professor Masten continues to be exceptional in all she does," said U of M President Eric Kaler. "She has dedicated her career to understanding human resilience, and her insights greatly benefit our society. I look forward to her ongoing research and scholarship and congratulate her on this well deserved honor."
Masten has published numerous empirical, theoretical and review papers on risk and resilience, competence and developmental psychopathology. Her publications have been widely distributed to scientists, policymakers and practitioners, and she is frequently invited to speak and consult at the national and international level. Masten coined the term "ordinary magic" to describe how human resilience typically arises from the operation of normal rather than extraordinary human capabilities, relationships and resources.
She has served as president of the Society for Research in Child Development and president of the developmental division of the American Psychological Association. She is a member of the Board on Children, Youth and Families of the National Academies and the U.S. National Committee for the International Union for Psychological Science.
Masten recently received the Urie Bronfenbrenner Award for Lifetime Contributions to Developmental Psychology in the Service of Science and Society from the American Psychological Association. She is also the recipient of several teaching awards, including the U of M's Horace T. Morse Alumni Award for Outstanding Contributions to Undergraduate Education.
Masten, who received a Ph.D. in clinical psychology from the U of M in 1982, will be formally recognized by the Board at its September meeting.
The College of Education and Human Development has two other Regents Professors: Megan Gunnar and Karen Seashore.