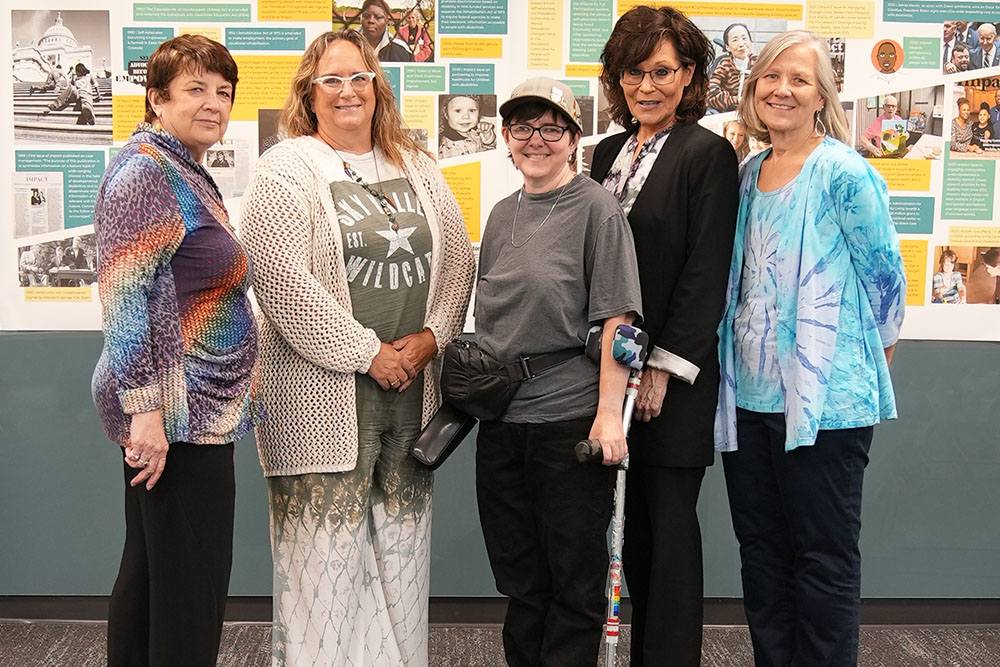 Heidi Myhre (pictured in the center with current and former ICI staff) this week welcomed guests of the Institute to a 35th anniversary celebration for Impact, ICI's flagship publication, which advances the inclusion of people with disabilities in their communities of choice.
The celebration at the Masonic Institute for the Developing Brain included recollections from current and former ICI staffers, colleagues, and other friends of the organization who have contributed articles over the years.
"I vividly remember the first time I was asked to be an editor for an issue of Impact," ICI Director Amy Hewitt (second from left) recalled at the celebration. "It was such an honor to be asked, and I felt it marked a turning point in my career."
Myhre, a member of the Institute's Self Advocate Action Committee, has served frequently as an Impact author. In the spring anniversary issue, she wrote an article about why the publication remains relevant.
"Impact was put together to educate about topics in intellectual and developmental disabilities, and for us to know we're not alone. It brings new knowledge to people who don't understand disability and to us as advocates and self-advocates, and to people all over the world," she wrote. "Each issue is a little different, but it always tells a story and we learn something about why people with disabilities stand up for our rights and how we make a difference in the world."
Myhre's work with Impact, and ICI, has been insightful, said Janet Stewart, Impact's managing editor.
"Heidi's attention to detail in writing her articles has been impressive," Stewart said. "She has a real knack for getting to the heart of an issue and engaging people around her to better understand an important issue."
In addition to her work on the committee and with Impact, Myhre has participated in several ICI research and education projects. Recently, she and other self-advocates starred in a two-part video series, In Our Own Words: Improving Care for People with Disabilities , which focuses on communication tips and detailed suggestions for providing the most appropriate care settings for people with a variety of disabilities.
"I like doing those projects and seeing all the different angles," she said of her advocacy work. "If providers take the training videos seriously, if they actually hear us, the training will help a lot of people. We can do all the training and have all the data in the world and a lot of people still don't get it. We hope they'll hear us, but they have to be willing to listen."
Click here for a free print or online subscription to Impact.
She urged attendees at the Impact celebration to keep fighting for better wages and benefits for the direct support professionals providing services for people with disabilities.
"The system is broken, and we need a lot more workers just to help us get back to the basic services we need to live independently," Myhre said. "We still have a lot of work to do."