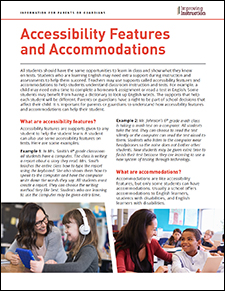 Students' academic skills improve when their teachers and parents work as a team, studies show.
For families of English learners, including those whose children also have a disability, collaborating and advocating for their children can be a challenge. Beyond a possible language barrier, there may be cultural barriers and differing expectations about the role of parents in a child's education. Some parents may also be working multiple jobs and find it difficult to meet with teachers and attend school events.
Despite the challenges, it is vital that parents and teachers work as equal partners in a child's education.
"Parents know their children best, and can advocate for the supports that will fit their children's unique needs. Parents of English learners sometimes need additional resources to understand their role and to be able to communicate with teachers," said Kristin Kline Liu, director of the Improving Instruction for English Learners Through Improved Accessibility Decisions project at ICI's National Center on Educational Outcomes (NCEO). "For their part, teachers also need to understand how to make parents of English learners feel like a valued partner in educational decisions."
With funding from the Office of English Language Acquisition at the U.S. Department of Education, the Improving Instruction project team at NCEO is collaborating with the West Virginia Department of Education to create a multilingual print and audio toolkit for parents, teachers and other school officials that promote parent-educator communication and collaborative decision-making about accessible instruction and assessment for English learners and English learners with disabilities. An English version of the toolkit is available now and additional materials for parents will be available shortly in Chinese, Vietnamese, Arabic, and Spanish.
One Improving Instruction brief for parents, for example, offers sample questions parents can ask teachers about how their children are progressing in class and encourages them to share insight with teachers about how their children learn best. Another brief for principals discusses professional standards for finding qualified interpreters for educators communicating with parents who do not speak English.
The parent briefs also offer sample scenarios, such as "May," a 10th grade student who is learning to speak English and has a visual impairment. The scenario spells out in plain language how her Individualized Education Program works and what tools she can use in class and on tests, such as large-print dictionaries and other materials.
"Teachers and parents need to make consistent decisions about which accommodations work best and which ones are acceptable in classroom and testing situations," said Liu. "All of the guides will support families as they become equal partners in their child's learning."