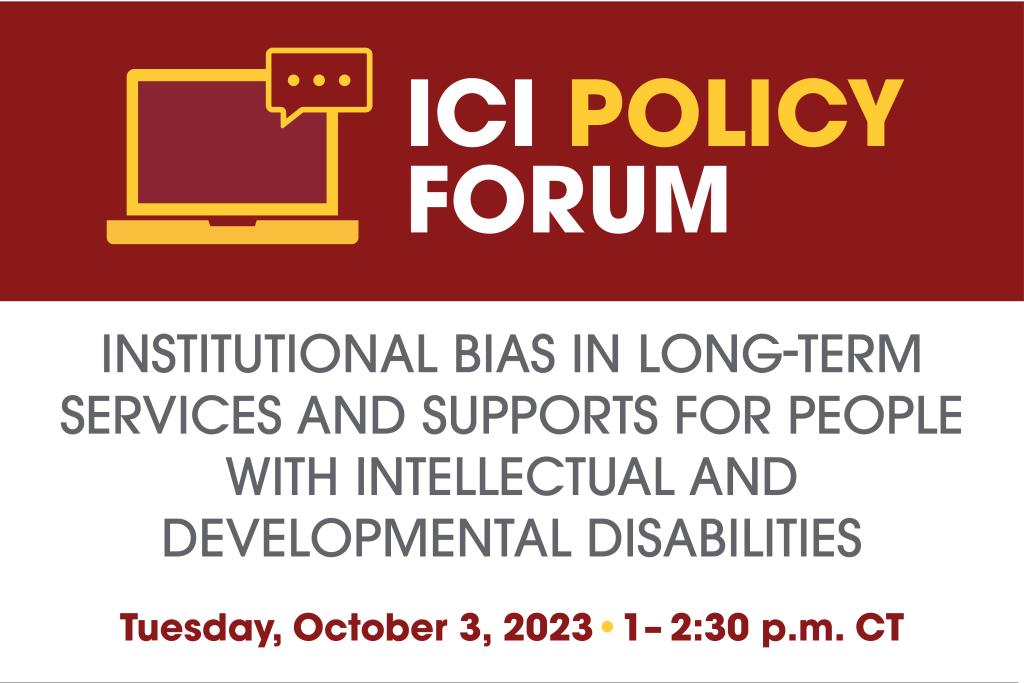 Heidi Hamilton, disability services director for the Minnesota Department of Human Services, and Michael Gamel-McCormick, disability policy director for the U.S. Senate Special Committee on Aging, will join researchers at the Institute on Community Integration and others at an Oct. 3 online public forum exploring how disparities in funding for services affects people with disabilities.
The policy forum, Institutional Bias in Long-Term Services and Supports for People with IDD, will be a live discussion of issues raised in a recent ICI Policy Research Brief. The brief recommends policymakers eliminate the funding advantage that intermediate care facilities have as Medicaid entitlements, placing home- and community-based (HCBS) services on equal footing. The brief also calls for enforcing all provisions of the 2014 Medicaid HCBS Rule to promote person-centered services and individual choice, among other recommendations.
"With recent developments in HCBS funding and workforce shortages, it is especially important now not to lose sight of the gains made as people with disabilities moved out of institutions and into community settings where they have much more control over their daily lives," said Julie Bershadsky, director of ICI's community living and employment focus area. "This brief explains the roots of the bias toward institutional care, and we are excited for the discussion with key stakeholders it will generate in the policy forum."
ICI's Brian Begin, Agnes Cole (MNLEND 2022-23), and Sheryl Larson served as editors of the research brief.
"It struck us as odd that while people with disabilities have better outcomes and prefer home- and community-based services, only services performed in institutions and intermediate care facilities are federally mandated," Begin said.
Cole, founder of the Disability Motivational Network , helped create the policy brief as part of her MNLEND fellowship at ICI. She said she was moved to work on this particular project after seeing the large number of people on waiting lists to have their services delivered at home.
"We need to allow family members to take care of their loved ones, and many are not even aware of their options," she said.
The research data comes from ICI's Residential Information Systems Project (RISP), a longitudinal study of living arrangements for people with intellectual or developmental disabilities who get long-term supports and services. The project tracks detailed information about the places people with disabilities live, including large institutions, intermediate care facilities, and group homes.
"While states are not allowed to have waiting lists for services provided in Medicaid institutions, most states have waiting lists for home or community-based supports and services. In some states those waiting lists are very long," said Larson, who directs the long-running project. "With more than 900,000 people getting Home and Community Based Services compared to fewer than 70,000 people in Medicaid-funded institutions, HCBS services are clearly preferred."
Register here for the forum on Oct. 3, 1 p.m. – 2:30 p.m. Central Time.